Description
The 'BIG THREE LEAGUE' campaign is a one-time charge of $1500.00 (USD) that is debited from an authorized cardholder's credit or debit card. The 'BIG THREE LEAGUE' campaign can be canceled thirty days in advance. Review and e-sign the Card Authorization form here.
All press releases are written by Jonathan P-Wright.  Jonathan P-Wright is an American journalist verified by Muck Rack.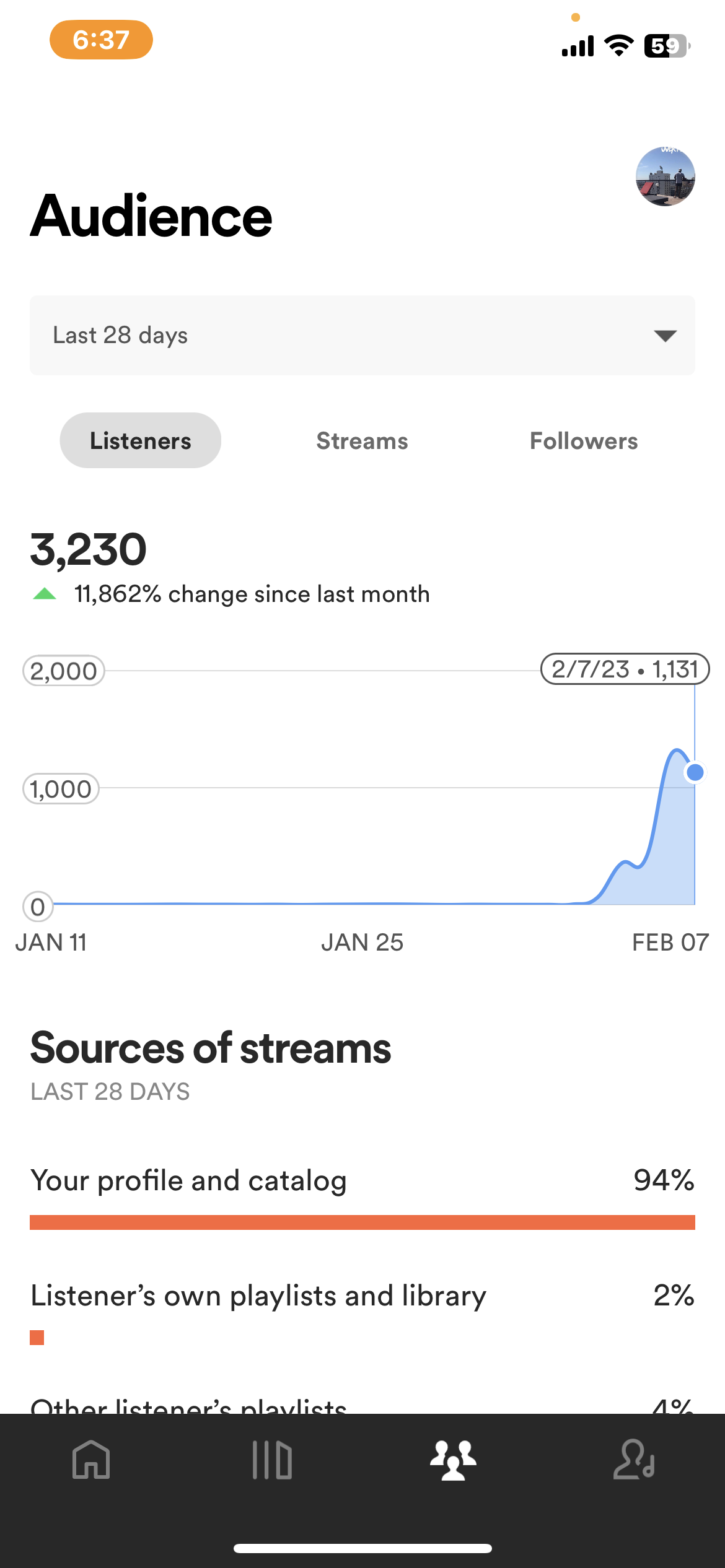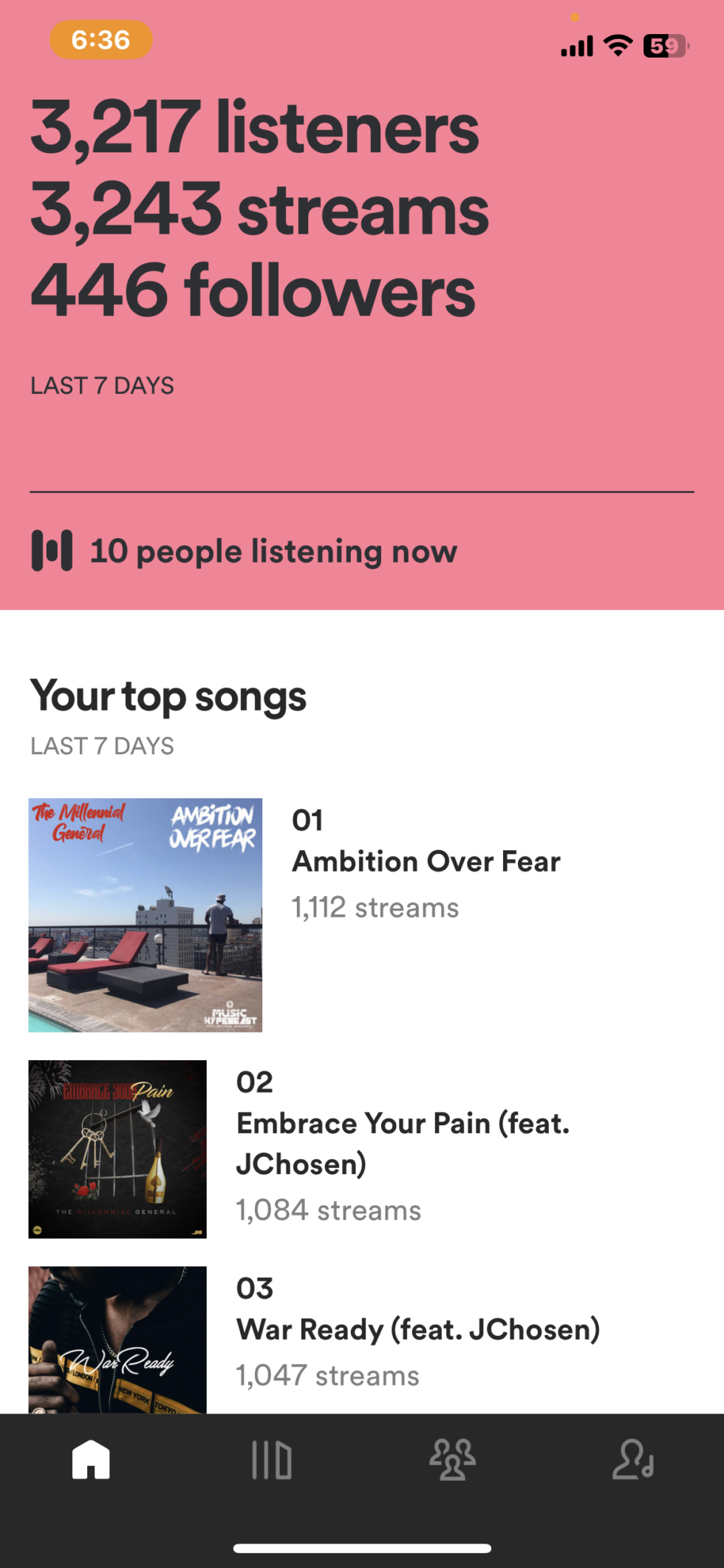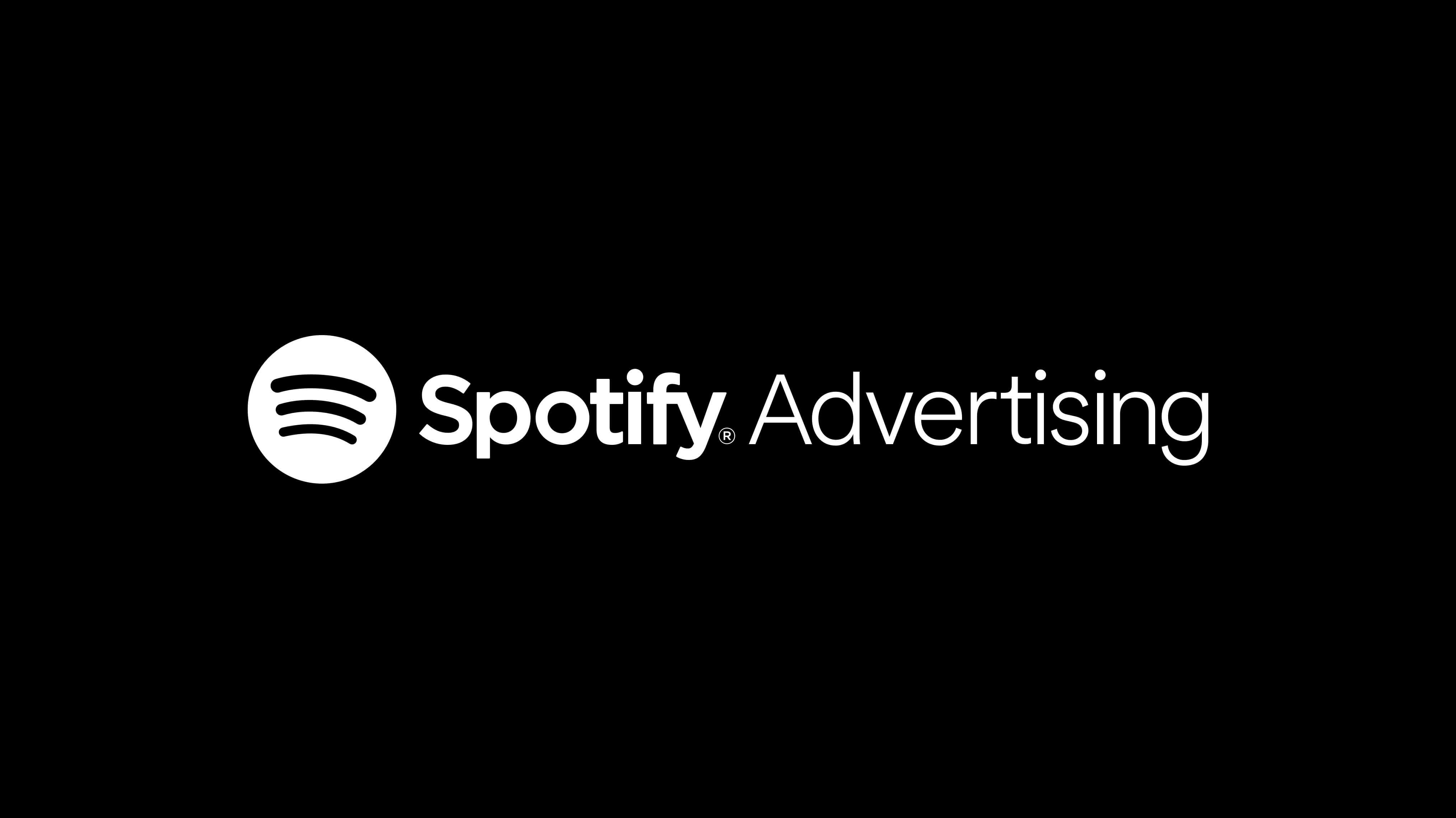 DISCLAIMER: ALL STREAMS ARE GENERATED FROM PREMIUM SPOTIFY STUDIO ADS!
The featured artist receives the following ORGANIC marketing and branding functions fueled by REAL HUMANS for optimal Spotify and Instagram growth/monetization. Every Spotify stream is generated from organic engagement and never from any type of robot software or Facebook ads. Spotify Studio Ads enables artists to increase their listeners and followers ORGANICALLY. All streams are reported as 'Your Profile and Catalog'.
This means people streamed your track from your profile within Spotify's website, app, or connected Spotify device. 'Your Profile and Catalog' streams are considered the 'Holy Grail' of plays. Spotify Best of Both Worlds platform eliminates the need for private playlist from companies promising 'real plays' from 'real people'. Spotify strictly PROHIBITS any artist paying for streams and these playlists are not endorsed by Spotify.
Spotify's algorithmic playlists are not accessible to people who use bots or fake streams. Since your streams aren't from actual humans, no genuine engagements or behavioral indicators show the song is worth listening to. So what do you think your chances are to land on 'Spotify Algorithmic or Editorial Playlists'? Actually, it's literally ZERO. Go ORGANIC or GO HOME!
DISCLAIMER- The artist's profile on Spotify is being promoted through Spotify Studio Ads. This implies that potential new listeners will need to click on the profile in order to select the tracks they wish to stream. This approach allows for an unbiased evaluation and assessment of the artist's music by the listeners. It is crucial for every artist to have multiple tracks on Spotify that are gaining traction and popularity.
Below are REAL RESULTS FROM ARTISTS WE WORK WITH RIGHT NOW!! #RESULTSANDNOHYPE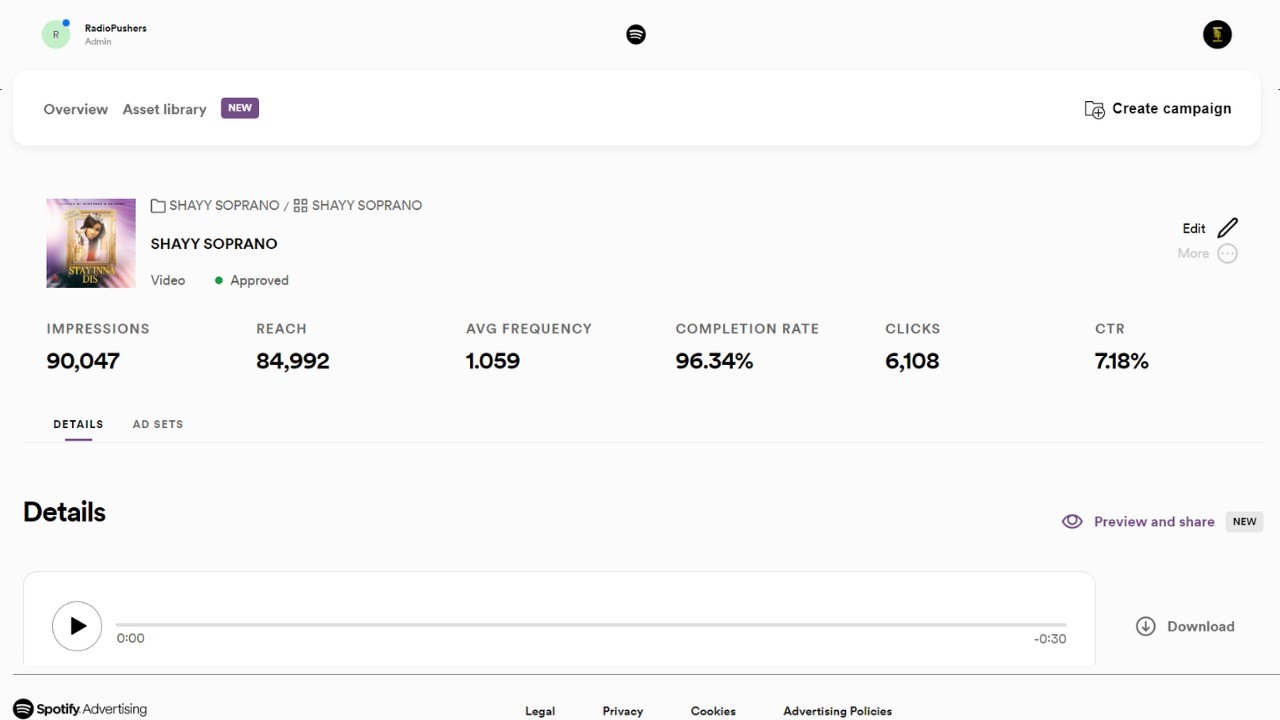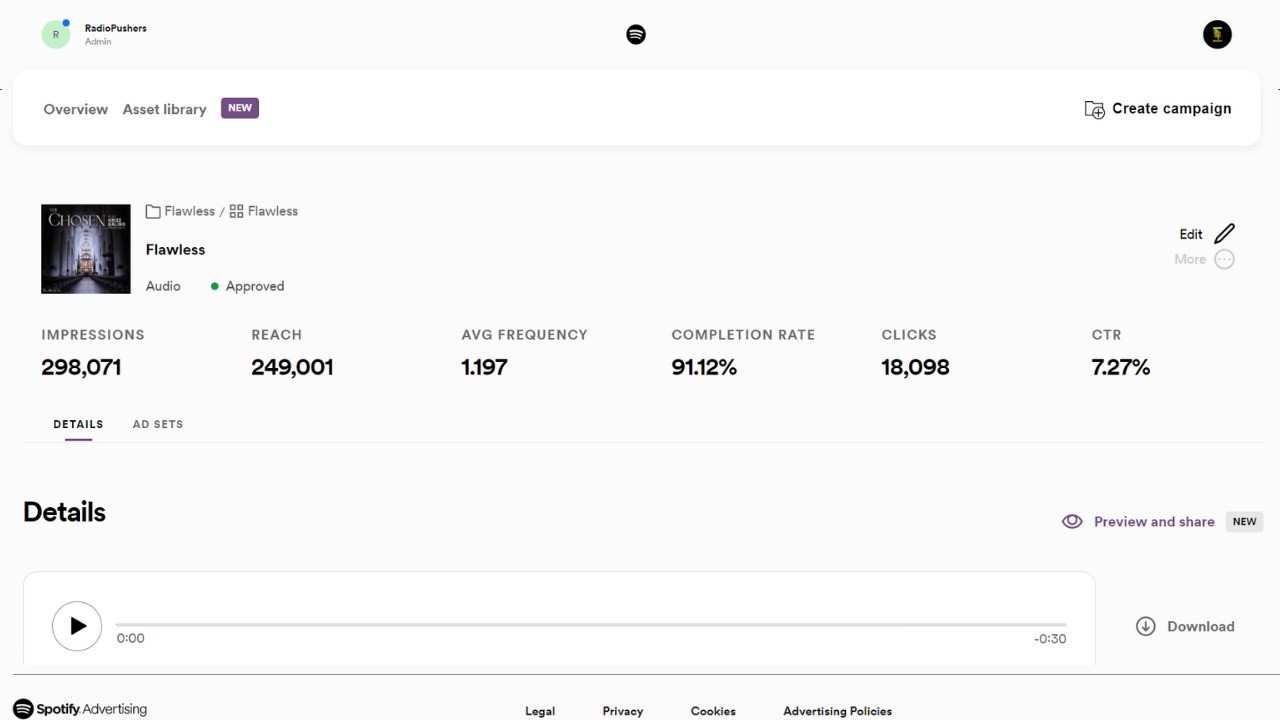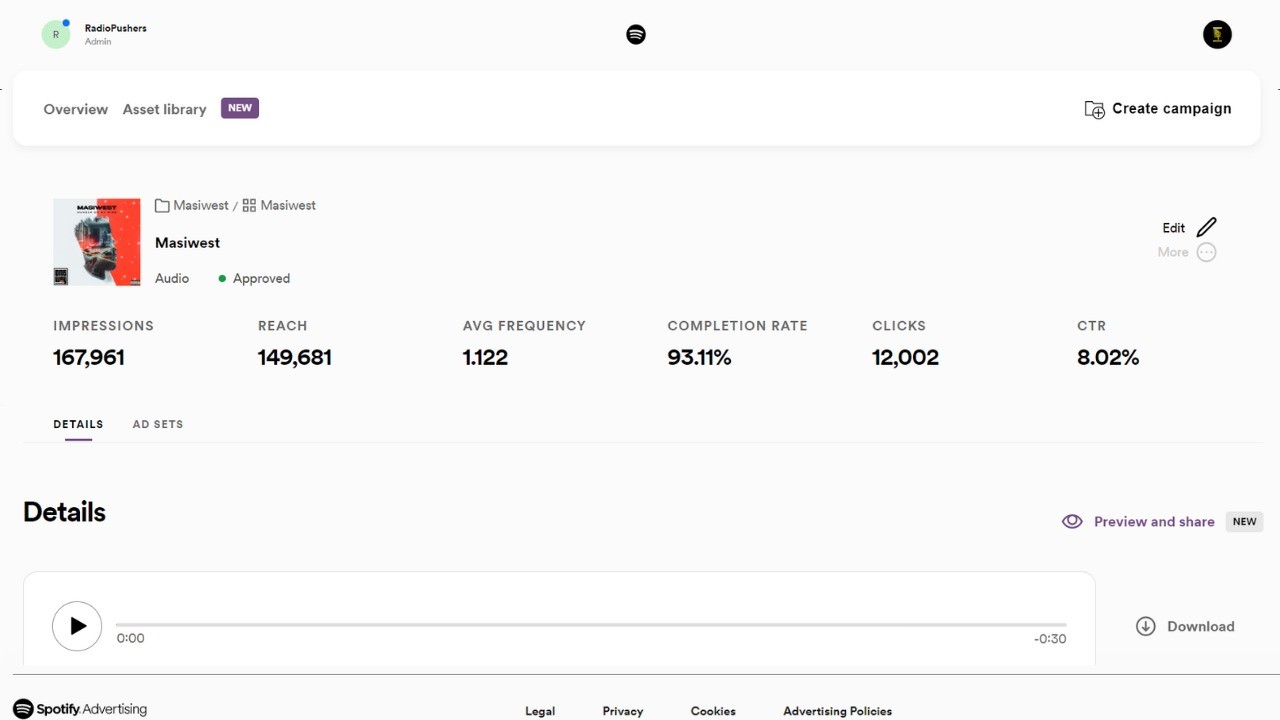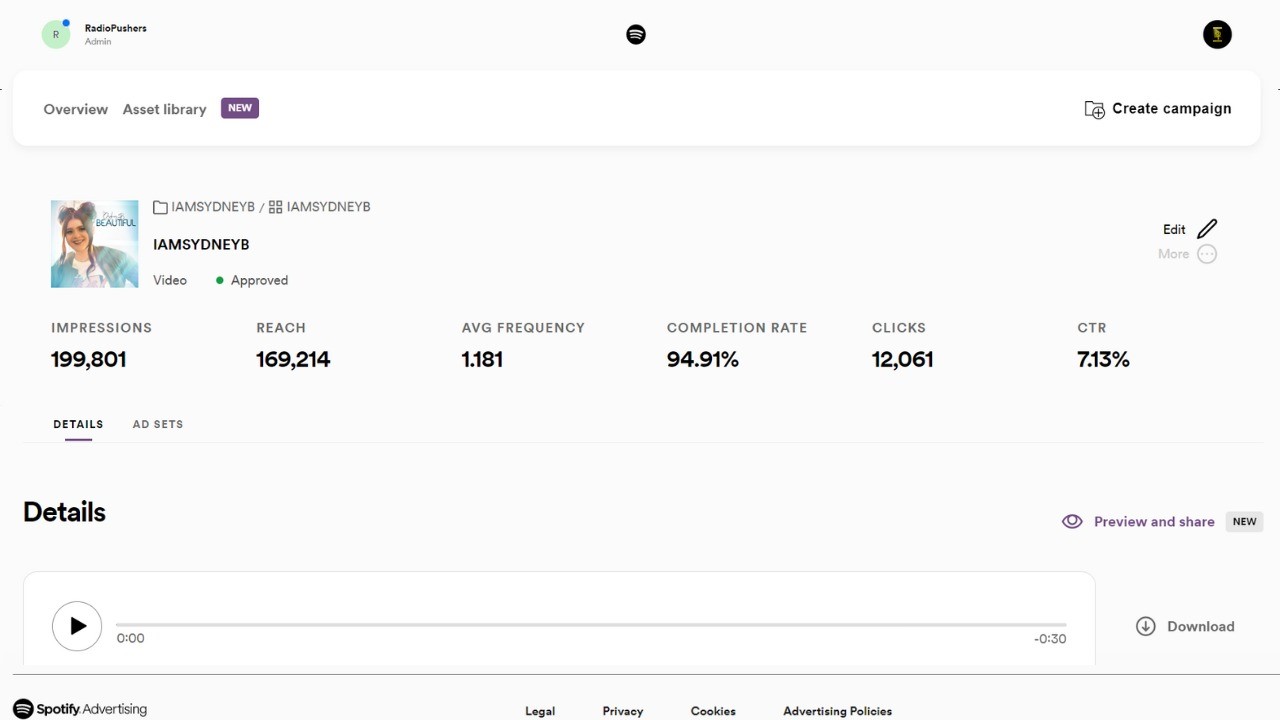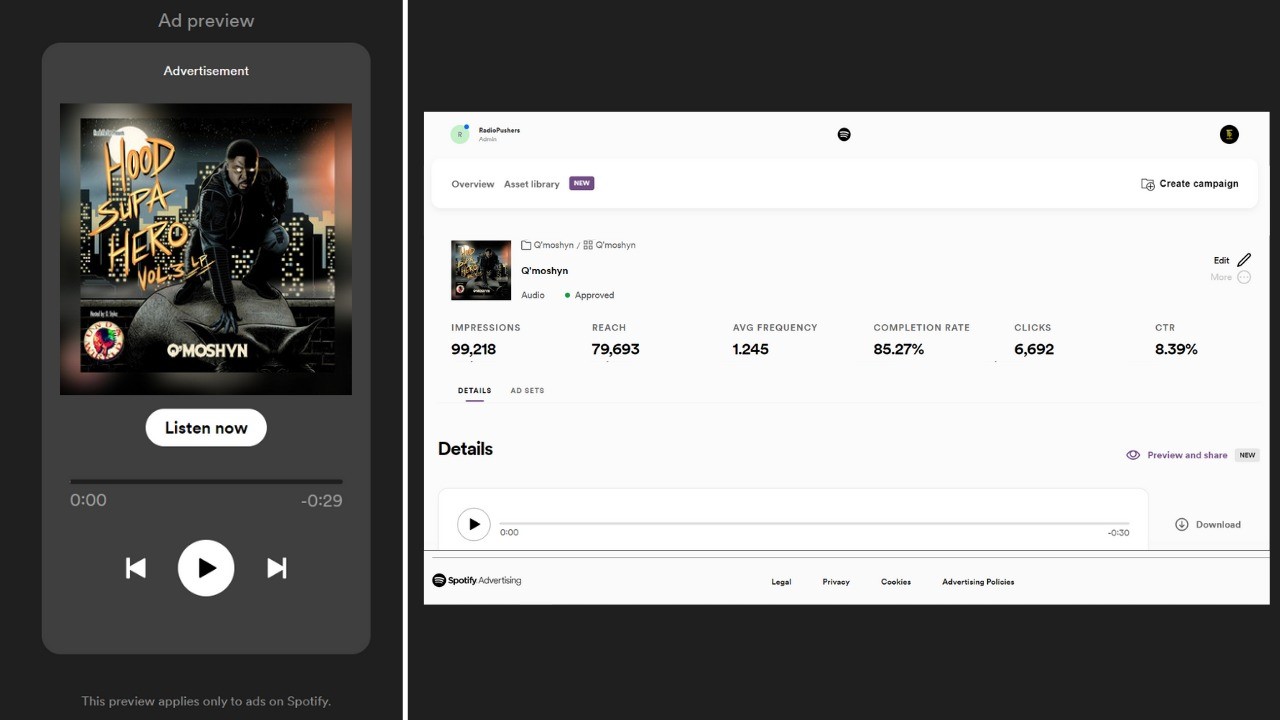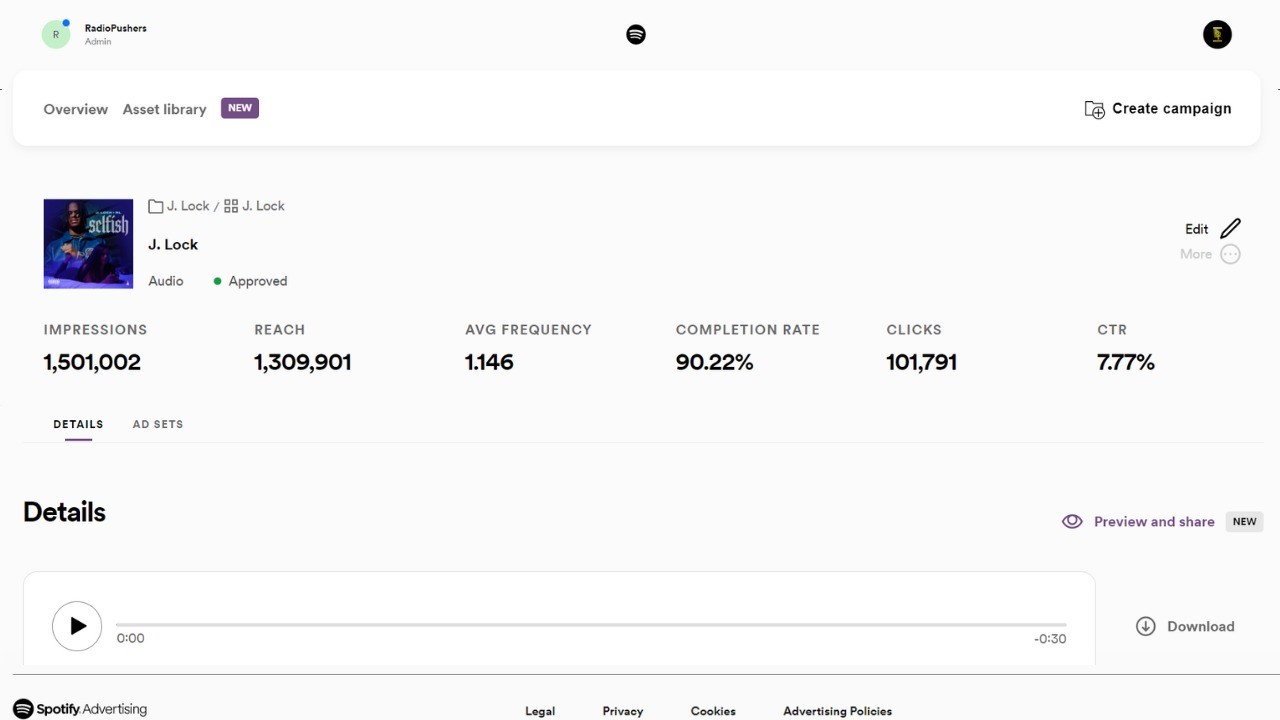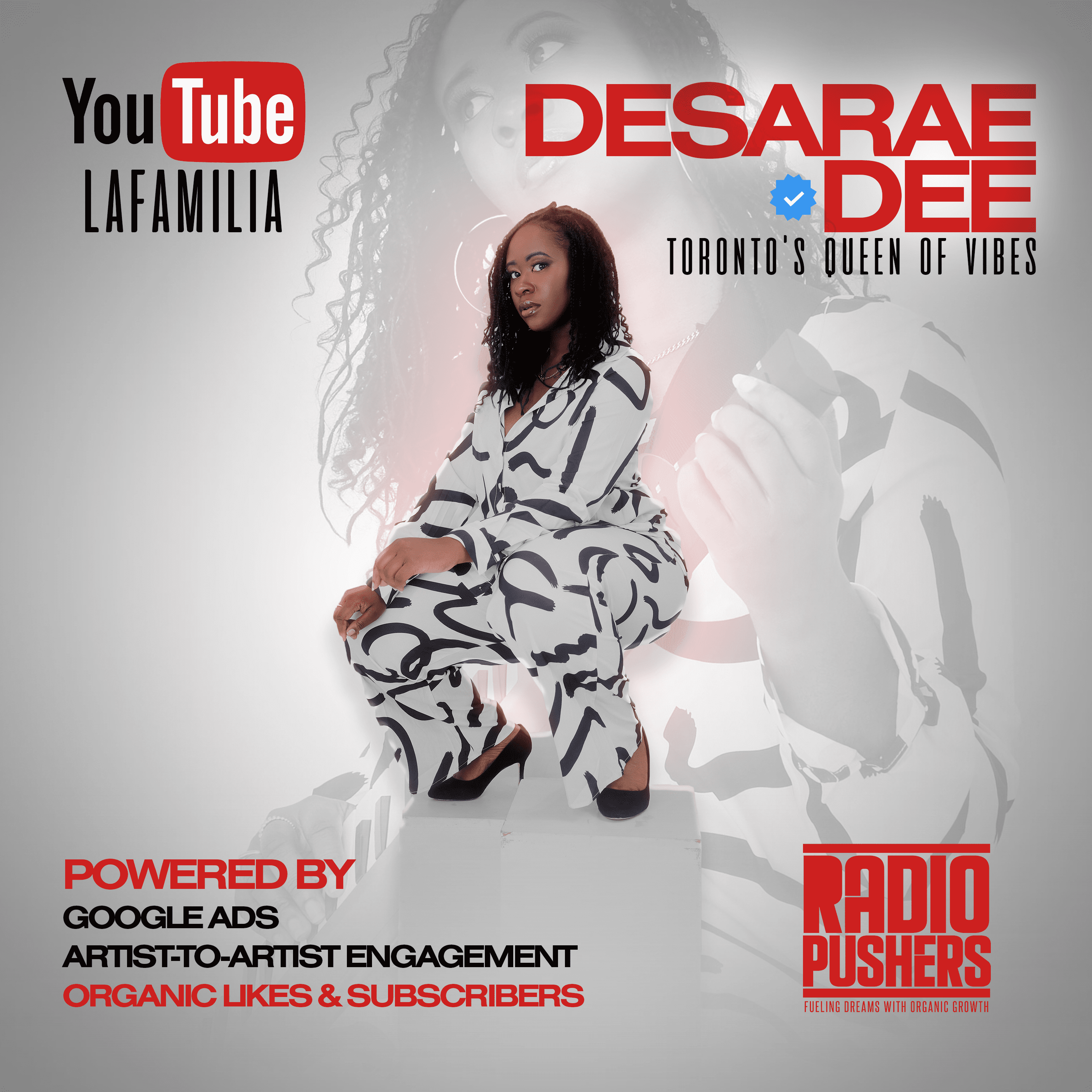 RADIOPUSHERS ensures that every artist showcased on their platform receives genuine organic traffic through the utilization of 'YouTube' Advertising. By harnessing the global influence and monetization capabilities of YouTube Ads, combined with real-time active human engagement, RADIOPUSHERS optimizes growth, engagement, and long-term subscriber retention.
To track the progress of their Human Ad Campaign, featured artists have access to the 'YouTube Studio' App. Within a span of 30 to 45 business days, the featured artist is guaranteed to witness an upsurge in views, likes, comments, and subscribers.
When collaborating with RADIOPUSHERS, artists can anticipate a minimum range of YouTube views, ranging from 10,000 to 15,000. This ensures that their content reaches a substantial audience, maximizing their visibility and potential for success.  The featured artist's video is added to RADIOPUSHERS's Google Ad monetized playlist 'YouTube LAFAMILIA'.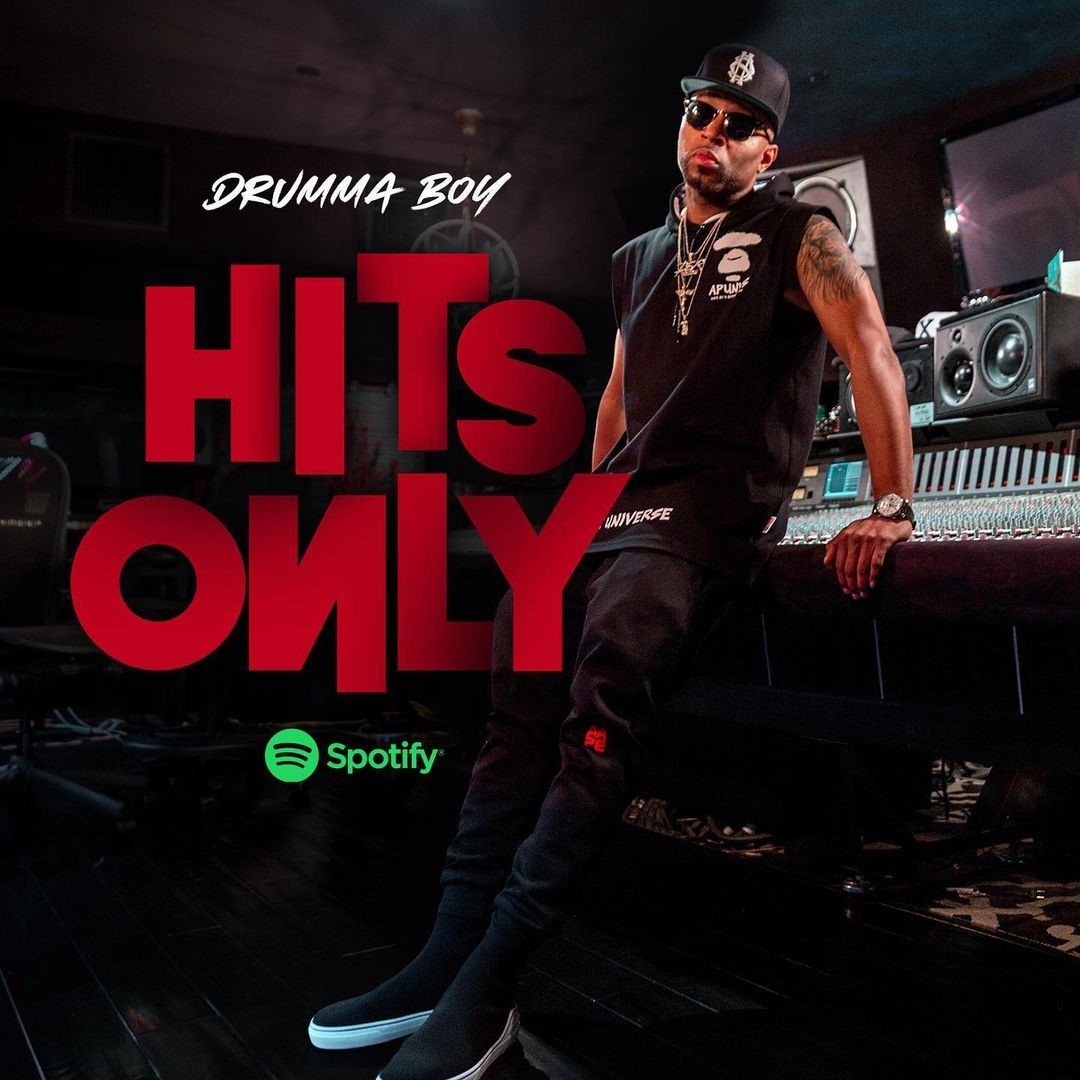 The featured artist track is reviewed, curated, and pitched to targeted Spotify Algorithmic and Editorial Playlists upon approval. Artists can gauge the quality of the Spotify Playlists via Chartmetric. Chart Metric provides real-time performance data and streaming analytics on playlists.
RADIOPUSHERS staff "pitches," "one" designated tracks to a minimum of two playlists for optimal exposure. All plays, saves, and engagements via the Spotify Algorithmic Playlists are powered by authentic activity. The staff of RADIOPUSHERS focuses on genre-specific playlisting.
All streams are eligible for royalty payouts and tracked via Spotify for Artists. RADIOPUSHERS does not guarantee any streaming amounts. All activity generates from the track's likeability amongst listeners.
Playlist placements are based on music appeal and overall demand. We guarantee consistently pitching your music to the best curators in the industry.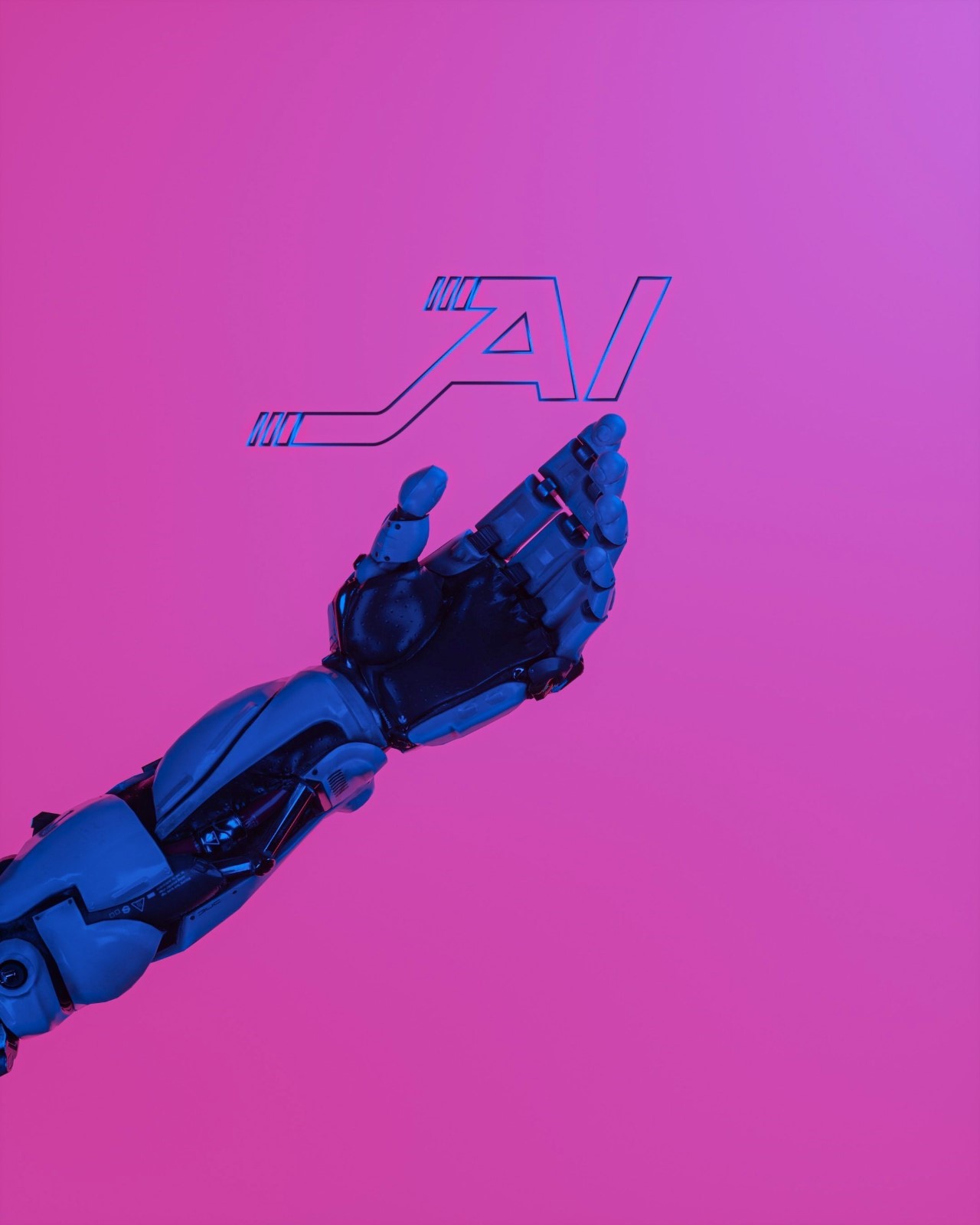 The use of artificial intelligence is fast spreading in the digital marketing industry including social media where Instagram belongs. Businesses, social media influencers, and content creators are looking for ways to automate tasks, boost productivity and make better decisions. AI can help with all of these things, and it's no surprise that its use is on the rise in the marketing world.
One area where AI is being used more and more is in social media marketing, specifically with Instagram. There are a number of ways that AI can be used to improve your Instagram strategy, from helping you to find the best hashtags to use to providing insights into what content is performing well.
RADIOPUSHERS social media growth and engagement team leverages the power of 'Artificial Intelligence' to organically increase artists/entrepreneurs Instagram followers.  RADIOPUSHERS social media team performs the following strategies to expand the artist Instagram audience.
For the past year, RADIOPUSHERS has constructed an in-house system of Instagram influencers and a custom AI targeting algorithm. We employ that technique to secure organic users who are targeted, captivated, and involved with your brand.
Our comprehensive platform enables us to determine the most influential users on Instagram, so we can direct your content toward them. And our AI targeting system certifies that your words are seen by those who are keen on hearing what you have to say.
We are convinced that this is the optimal approach to target organic users on Instagram. And it's why we have an esteemed presence amongst the most successful social media marketing agencies globally.
RADIOPUSHERS A.I. research and development team increases an artist/entrepreneur's Instagram account by a minimum of 400 followers per month. The maximum growth capacity projected by our software is 1,000 within 30 days.
RADIOPUSHERS does not need the Instagram password from the designated artist/entrepreneur account. Our A.I. platform has multiple filtering options, which creates a customized growth experience. Our A.I. technology maintains the capability to find followers based upon:
Gender 

Number of likes per post 

Business or Personal  

Multiple countries 

Similar IG accounts (Our software analyzes users from specific accounts that match your interests.  Example, if you are a female MC, we can scan IAMCARDIB's account.) 

Premium Hashtags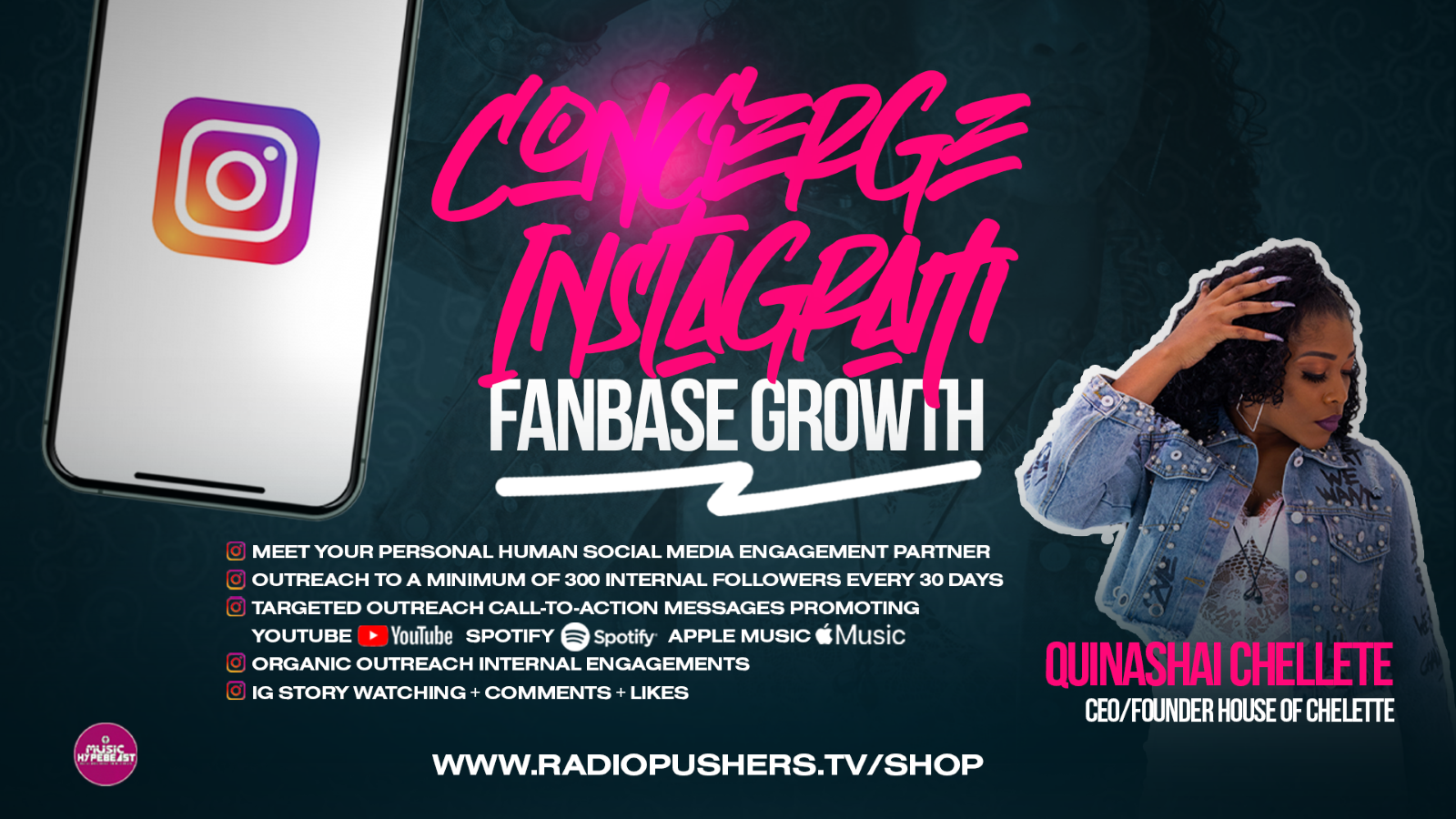 Watch the video ABOVE and understand why the "CONCIERGE INSTAGRAM FANBASE GROWTH PLATFORM' is the most organic and optimal way to interact with your internal followers and increase your monetization capabilities.
RADIOPUSHERS assigns a dedicated 'human' to interact with your internal followers 5X days per week. RADIOPUSHERS's staff interacts with 300 internal followers of the featured artist. RADIOPUSHERS performs the following functions below.
Liking main feed posts

Watching IG stories

Personalized Commenting

Targeted Call-To-Action Messages promoting your music on YouTube
RADIOPUSHERS creates high-responsive Call-To-Action messages promoting the artist's YouTube video. Driving internal traffic to YouTube enables the artist to gain subscribers and instant feedback from their followers. Interacting with the artist's internal followers enables the artist to build a solid live-stream audience. Having a large following on Instagram Live empowers the artist's influence and increases monetization bandwidth. In today's climate, every artist MUST have a real following. You can no longer hide behind playlists and buying ads.
RADIOPUSHERS's staff analyzes the artist's internal followers post for customized interaction and premium responsiveness.
Our company relies on real people to perform the tasks outlined. In order to achieve this, we will need temporary remote access to your Instagram account.
To ensure optimal security, it is imperative that all artists activate two-factor authentication. Instagram will promptly send a code to their registered cell phone via push notification, which must be relayed back to our team within 60 seconds to complete the login process. Please keep in mind that this process is time-sensitive, and failure to comply may result in restricted access.
Below are real examples of customized messages created by RADIOPUSHERS.
SAMPLE 1-
OUTREACH MESSAGE: @xyzname, I just dropped a few comments on your stories and main feed posts. We've been following each other for a minute now. So, I'm catching up with everyone. Check your DM real quick, and I'll circle back this week.
DIRECT MESSAGE: @xyzname I partnered with YouTube for my latest release with the Hip-Hop Icon 'Kurupt.' This record and visual embodies the essence of West Coast rap music. I'd be honored if you could watch for, say, '60 seconds' and leave an honest comment on the YouTube video.
Here is the visual: https://www.youtube.com/watch?v=loTHdNmW97w
FYI, thanxx for following me. I'm back on my grind now, so you'll see more interaction from me moving forward fam.
SAMPLE 2-
OUTREACH MESSAGE: Hey @xyzname, just dropping by to let you know that I left some comments on your stories and main feed posts. Since we've been following each other for a while, I thought it's about time to catch up with everyone. Make sure to check your direct messages, and I'll be following up with you later this week.
DIRECT MESSAGE: Grand rising @xyzname, I'm excited to announce the release of my latest project in collaboration with YouTube, featuring none other than the legendary Hip-Hop icon Kurupt. The music and visuals embody the true essence of West Coast rap. I'd be honored if you could take a moment to watch the video for about 60 seconds and share your honest feedback in the comments section. Thank you for your time!
Here is the visual: https://www.youtube.com/watch?v=loTHdNmW97w
I appreciate your decision to follow me. Moving forward, I will be more engaged with you and expect the same level of interaction from you. Let's keep the momentum going.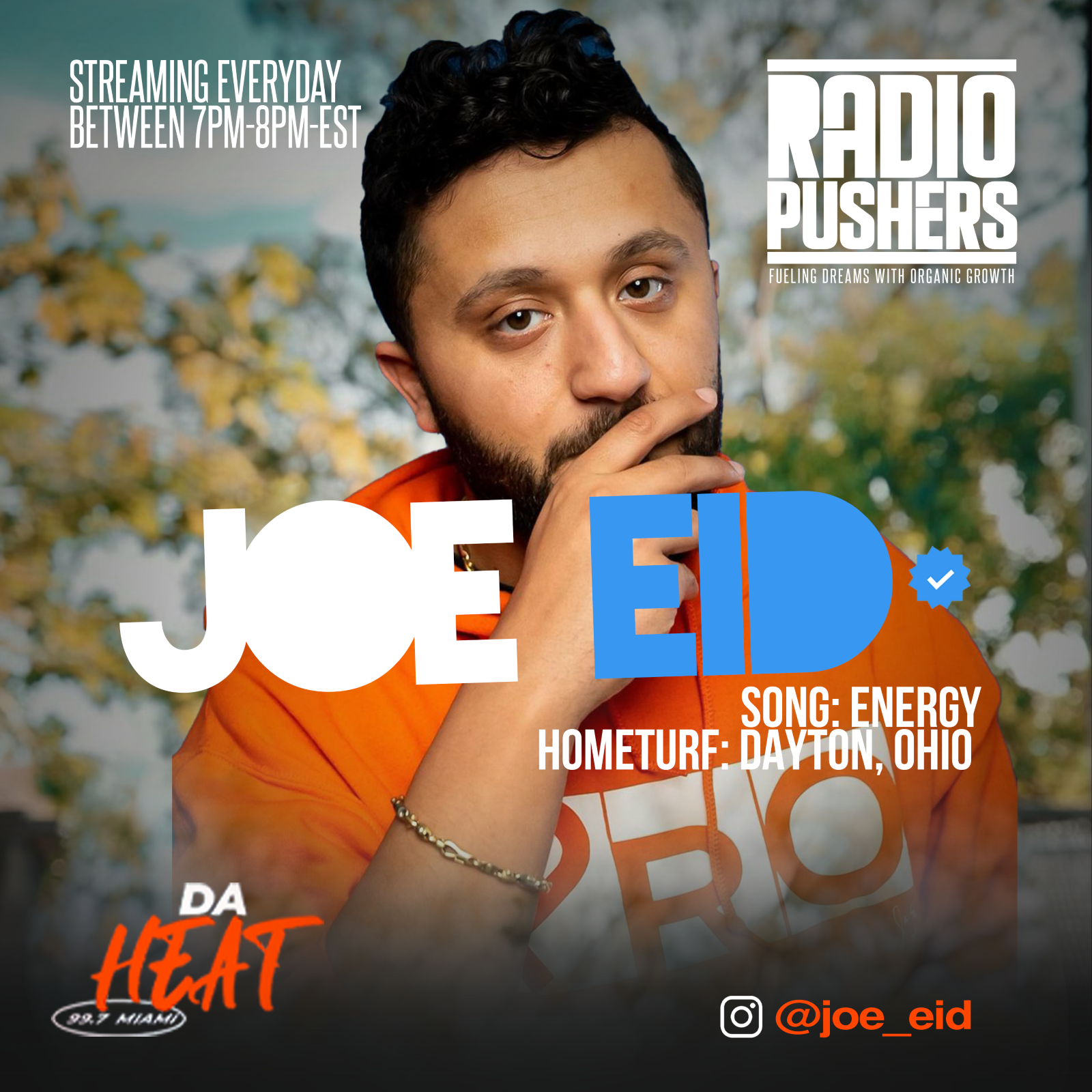 The featured artist receives a 15-minute music review of their designated track powered by 99.7 DA HEAT MIAMI Curation Team. If the track is approved via 99.7 DA HEAT MIAMI Curation team, the designated track is added to radio rotation for 30 days. The featured artist's track spins a minimum of 3X per day. 99.7 DA HEAT MIAMI reports to BMI, ASCAP, SESAC, SOCAN, and Sound Exchange. The record must be registered appropriately and encoded for accurate royalty payout. 99.7 DA HEAT MIAMI only broadcasts 'clean' and 'radio edit' music.
Disclaimer: If the featured artist cancels their campaign with RADIOPUSHERS, the designated track will broadcast until the end of their 30-day cycle.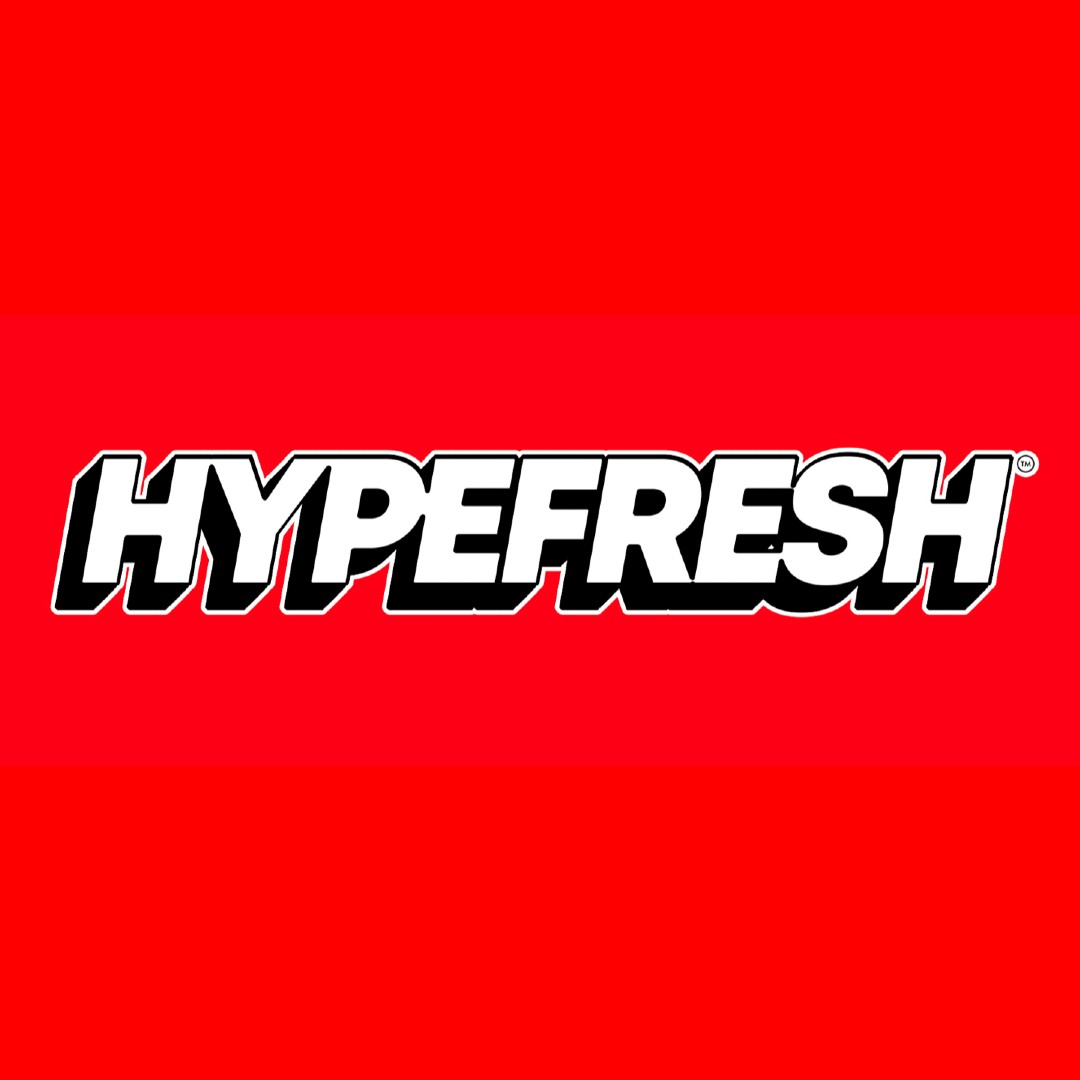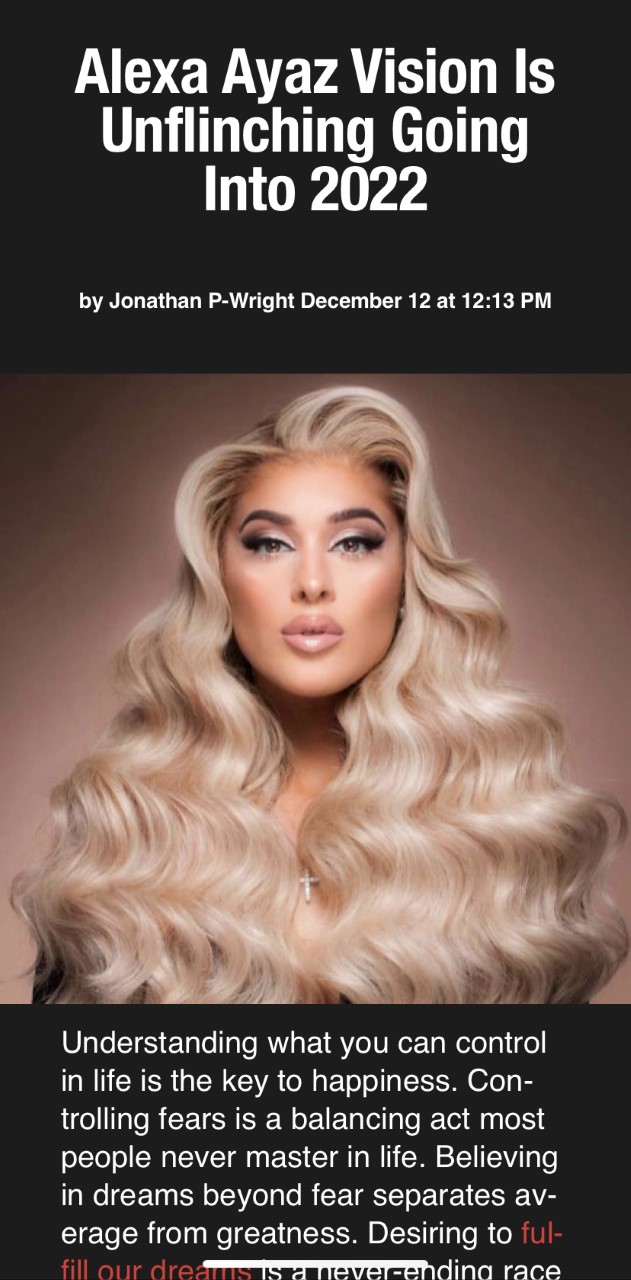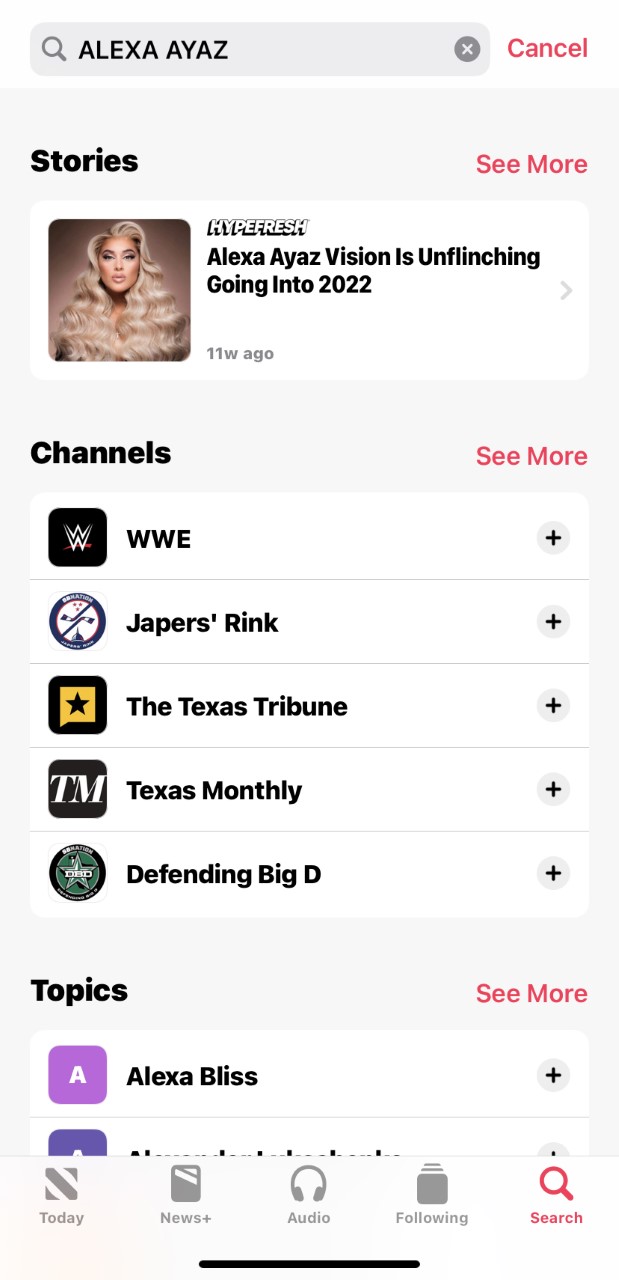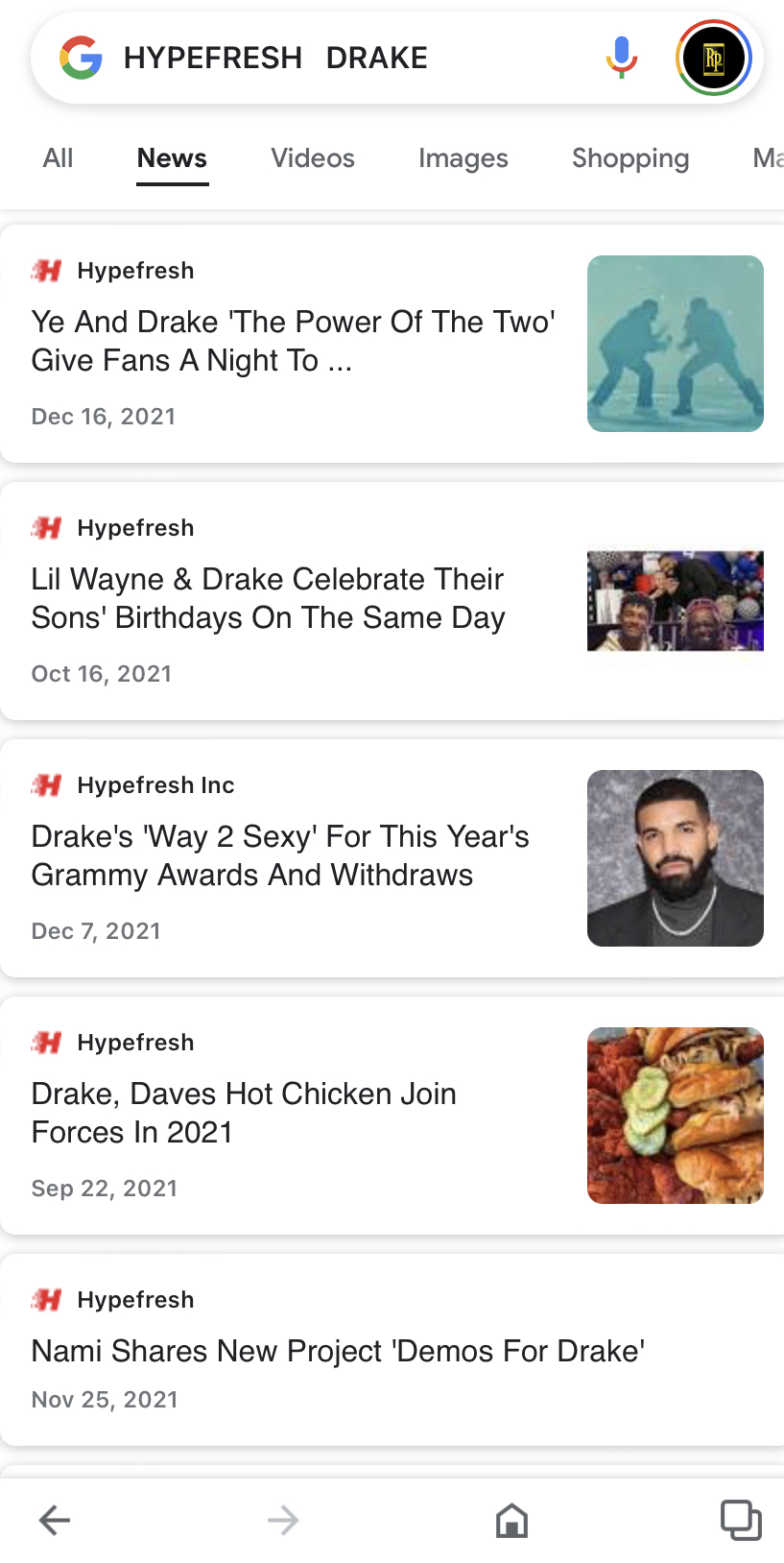 The featured artist receives a full-page 300-word editorial feature inside HYPEFRESH Magazine. HYPEFRESH Magazine is one of the premier entertainment and lifestyle media publications. For 7+ years, their brand has been at the epicenter of men's fashion and lifestyle. HYPEFRESH Magazine is a high-ranking Google News site. HYPEFRESH Magazine is a verified media publication on Muck Rack and a globally recognized mainstream news outlet.

HYPEFRESH is published inside Apple News and maintains a high-ranking SEO channel. Subscribe on Apple News Alexa Ayaz Vision Is Unflinching Going Into 2022 (apple.news)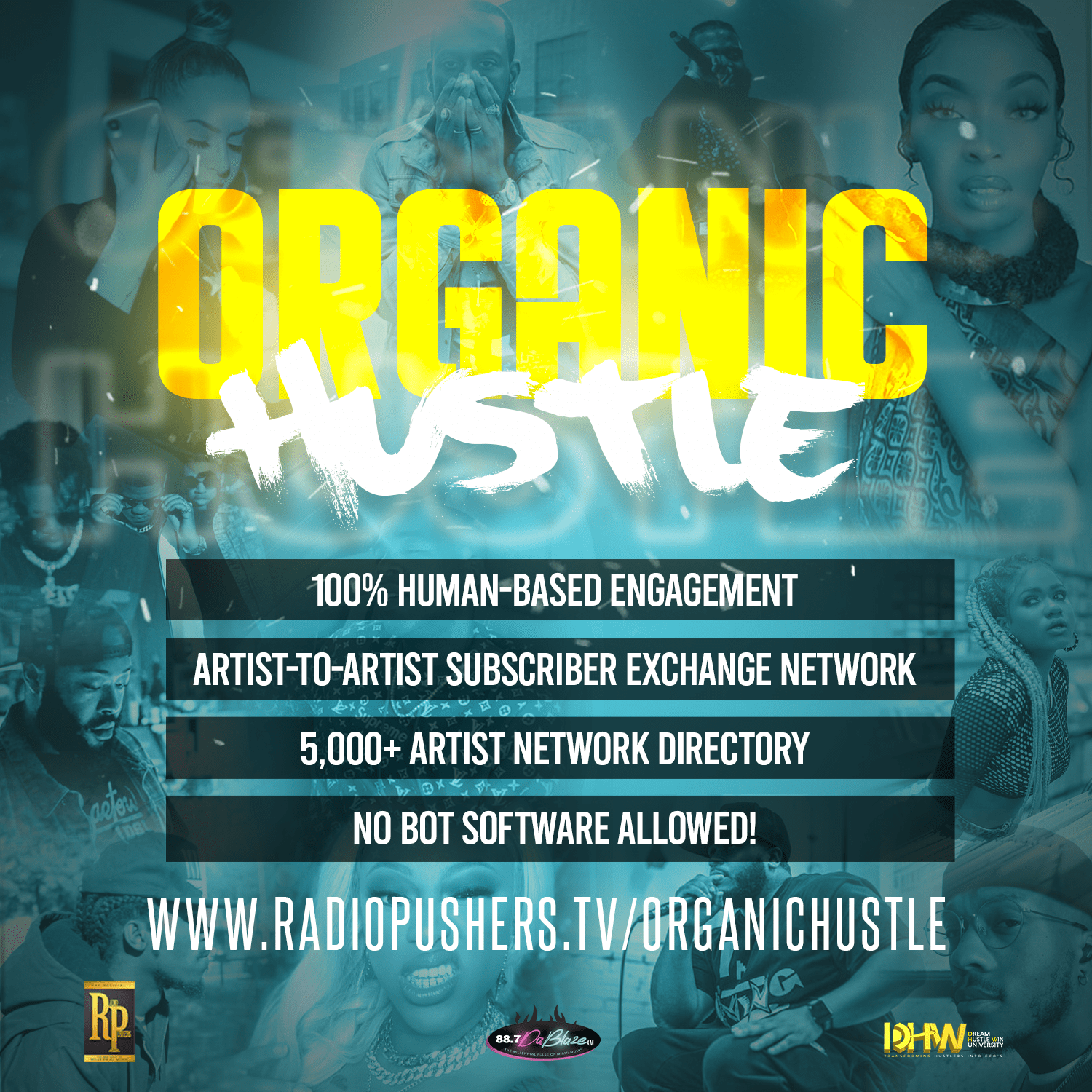 This campaign includes the 'ORGANIC HUSTLE' engagement platform. 'ORGANIC HUSTLE' is the process of artists receiving social media engagement from real humans without any software assistance. RADIOPUSHERS provides every artist with an interactive portfolio of actual humans (Music Millennials) that engage with you in real-time. For 4+ years, we've built a rock-solid foundation of 2,000+ artists.
The featured artist receives access to A MINIMUM of 500 Instagram users for premium engagement via a digital dashboard. All users are targeted and handpicked by the RADIOPUSHERS staff for optimal performance. NO BOTS!!!
The featured artist engages with every person via watching IG stories, commenting, and having everyday conversations. This process triggers REAL HUMAN ACTIVITY, which leads to natural engagement and authentic Instagram growth.
The featured artist must post high-quality content that reflects a positive, strong, and inspiring foundation. No negative, race-baiting, fat-shaming, or bad vibe related content is allowed. The average 'engaged' artist realizes an immediate increase in comments and followers within 30 days. Natural engagement is only to build a real fanbase!!! No BOTS!!!!! There is no EXCUSE to interact, build, and grow!!!

The MUSICHYPEBEAST Podcast Community maintains a broadcast network of 20+ podcasts powered by iHeartMedia. Every month, the featured artist/entrepreneur receives a 20-minute audio-only interview. Every interview is mixed and mastered via 'Emastered' and globally distributed to all major DSPs (Amazon Music, Audible, iTunes, Deezer, Spotify, and more). Each globally distributed podcast creates a URL backlink on Google.



The MUSICHYPEBEAST Podcast Community generated over 156,000 organic streams in 2022. The MUSICHYPEBEAST Podcast Community is distributed via Podcast.Co.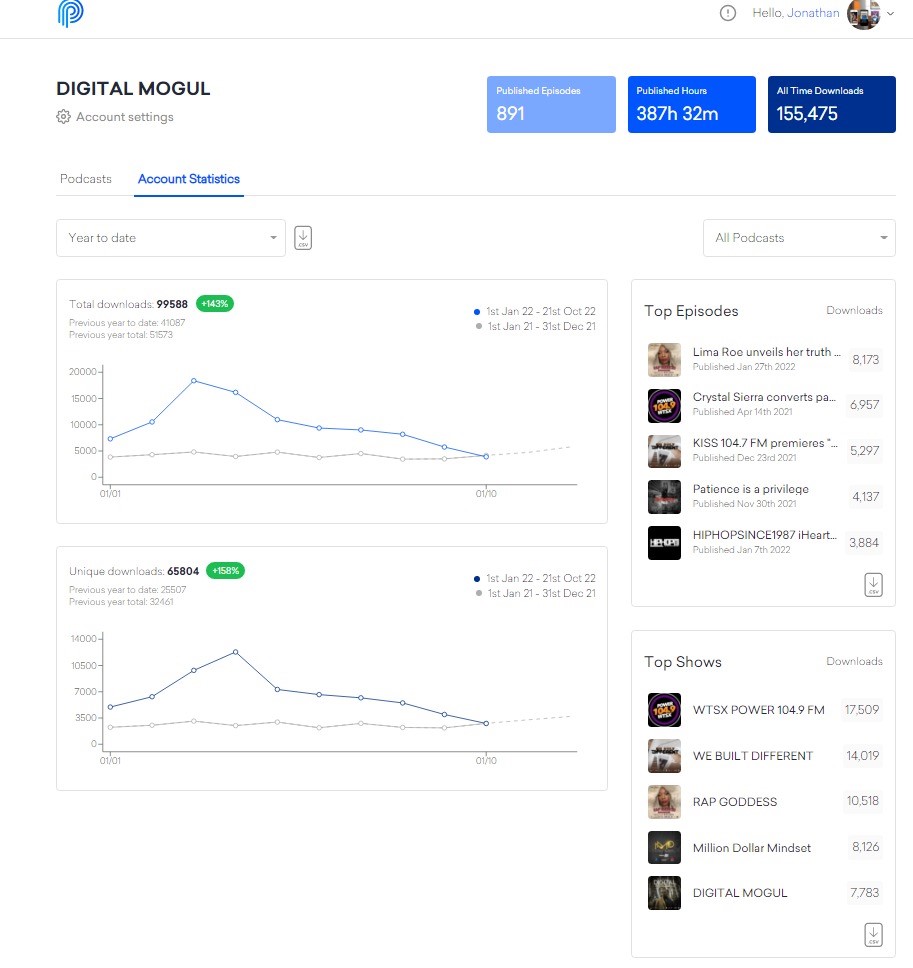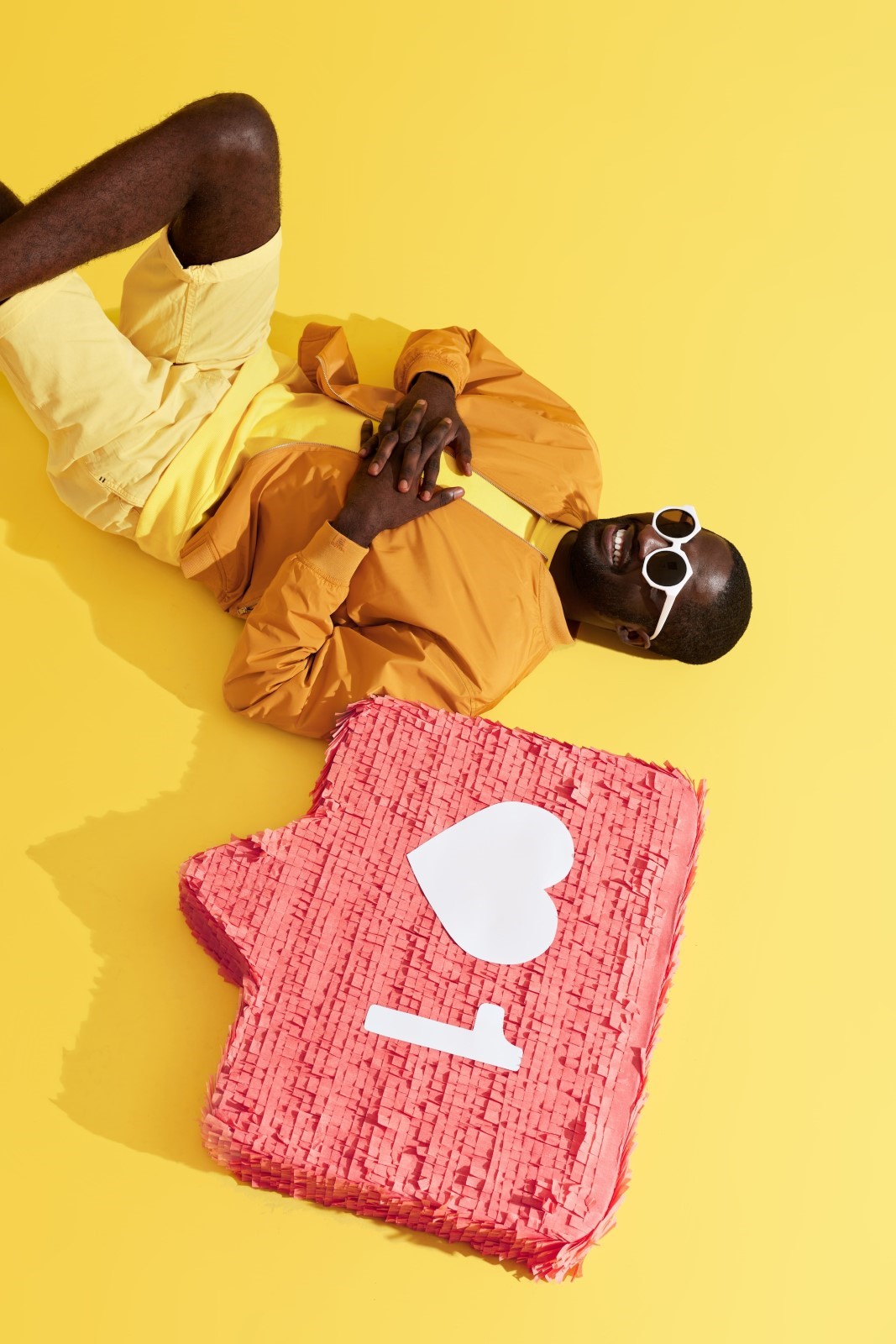 The spotlighted artist enjoys genuine interactions and involvement on their Instagram posts and reels. Every single interaction is sourced and spread from elite Instagram chat groups. Each participant from these groups is a bonafide Instagram user who engages by commenting, sharing, and saving the post.
The elite engagement squad includes verified accounts (those with the blue tick), social media trendsetters, artists, and hustlers. The typical reach of each post varies, falling somewhere between 1,500 to 3,000.
Remember though, the impact on post reach is dictated by the quality of the post content, its relevance in the social media world, and the use of top-tier hashtags. RADIOPUSHERS keeps tabs on a maximum of sixteen Instagram posts every lunar month. The traffic on Instagram includes likes, views, and comments.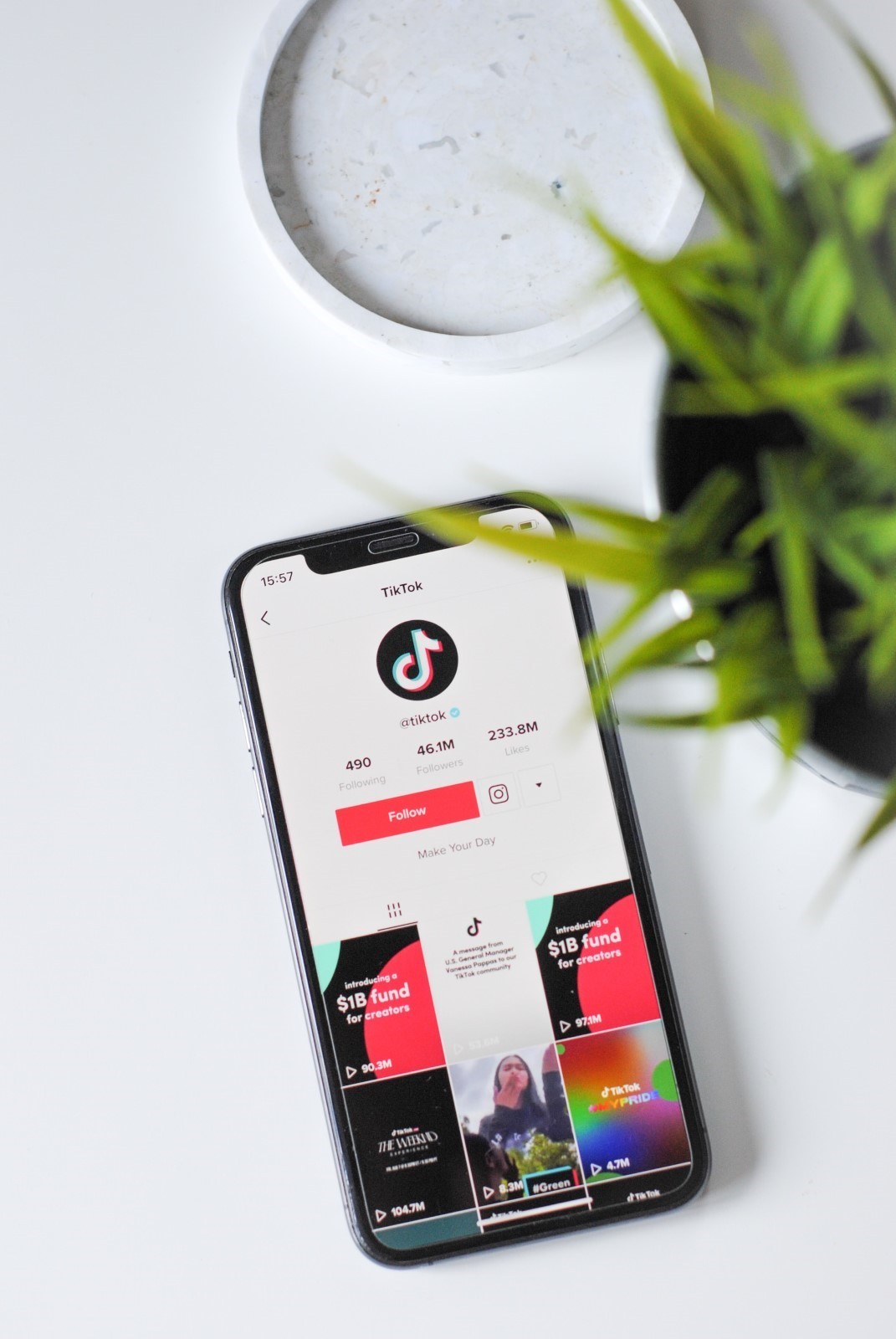 The spotlighted artist is guaranteed genuine interaction and attention on their TikTok feed posts. The bulk of this traffic comes from exclusive, high-quality TikTok discussion groups. Every TikTok follower is a bona fide account holder who participates through comments, sharing posts, and saving them for later viewing.
The elite interaction group consists of authenticated social media big names, innovative artists, and business hotshots. An average engagement on any given post swings from 1,500 to 3,000 interactions.
Heads up: The reach of a post hinges greatly on the quality and relevance of its content, in addition to the use of top-tier hashtags. RADIOPUSHERS keeps tabs on a max of sixteen TikTok posts per moon cycle, with traffic consisting of likes, views, and commentary.