Description
The HIPHOPSINCE1987 Campaign is $2500.00 and requires no contract. The $2500.00 does not recur or automatically charge your debit card. You will need to create a FREE artist profile account here My account | RADIOPUSHERS Please review & E-Sign the card authorization agreement here.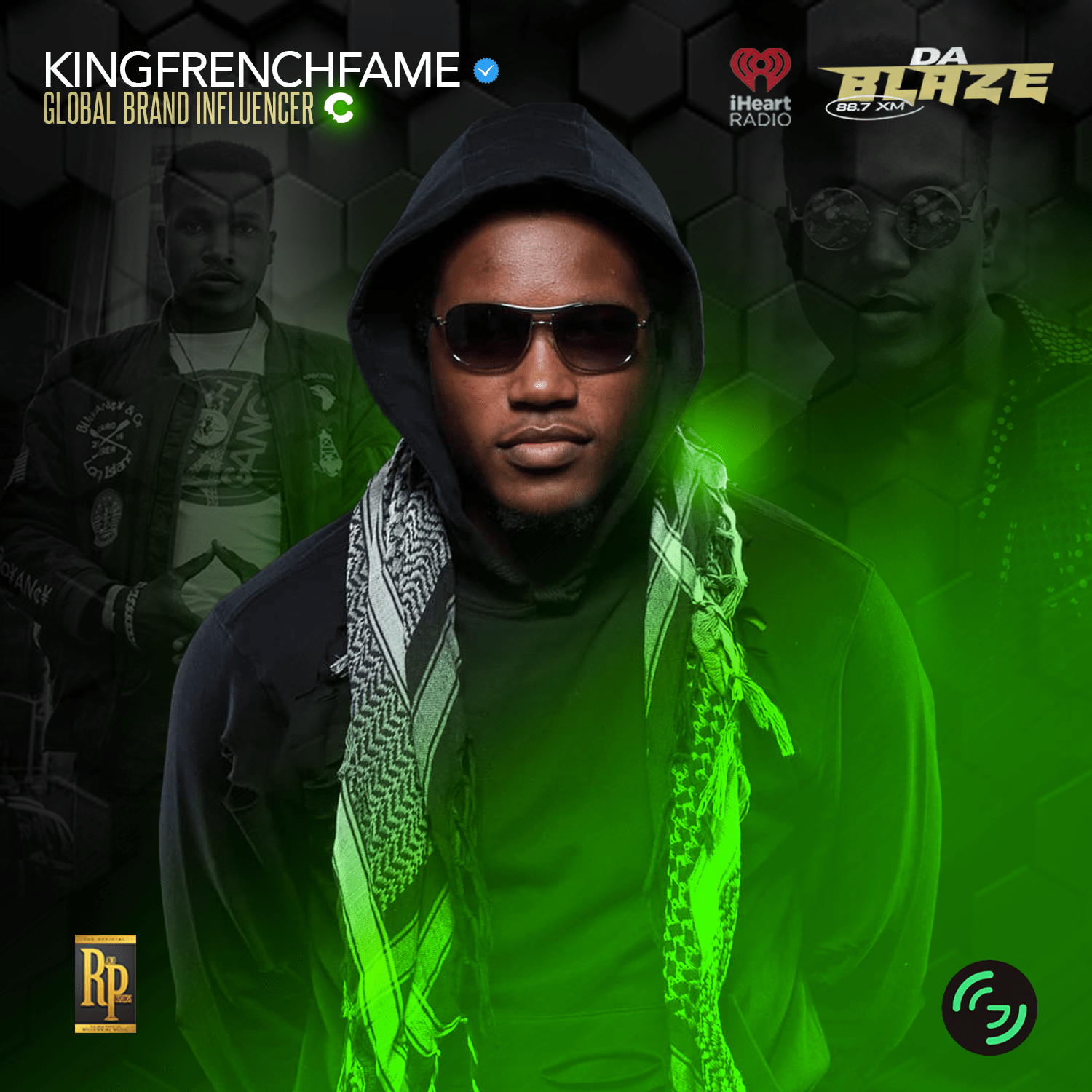 The featured artist track is reviewed, curated, and pitched to targeted Spotify Algorithmic and Editorial Playlists upon approval. Chart Metric tracks every playlist within the RADIOPUSHERS Network. Chart Metric provides real-time performance data and streaming analytics on playlists.
RADIOPUSHERS staff "pitches," "one" designated track to a minimum of six playlists for optimal exposure. All plays, saves, and engagement via the Spotify Algorithmic Playlists are powered by authentic activity. The staff of RADIOPUSHERS focuses on genre-specific playlisting.
All streams are eligible for royalty payouts and tracked via Spotify for Artists. RADIOPUSHERS does not guarantee any streaming amounts. All activity generates from the track's likeability amongst listeners.
Playlist placements are based upon music appeal and overall demand.  We guarantee consistently pitching your music to best curators in the industry.
The featured artist receives a 60-minute pre-recorded face-to-face interview with HIPHOPSINCE1987. The interview is conducted onsite in Miami or California. All interview locations are conducted at private secure residential/commercial locations for optimal visuals and digital branding. Podcast Interviews are shot within the Miami Beach area including Hialeah and Little River. Podcasts shot in Los Angeles.
HIPHOPSINCE1987 platform broadcasts tomorrow's generational leaders' voices in music, entertainment, business, sports, and humanity. HIPHOPSINCE1987 illuminates the soul of Philadelphia. The featured artist receives an Mp3 and MP4 copy of the master final recording.
The final mastered visual appears on the official YouTube Channel of HIPHOPSINCE1987 (Over 172,000 subscribers) and the IGTV profile page.
Below are rules, protocols, and conditions to be on the HIPHOPSINCE1987 Podcast Series:
The featured artist is allowed to bring two guests.
No drugs or drug-simulated paraphernalia.
No cursing during the interview. (We have corporate sponsors)
No hate, racist, or fat-shaming rhetoric is allowed.
No violence is allowed.
HIPHOPSINCE1987 Podcast broadcasts globally on the following platforms:
The featured artist receives an exclusive HIPHOPSINCE1987 Magazine cover customized by RADIOPUSHERS. The digital magazine cover features multiple artist images and state-of-the-art design for global branding. The HIPHOPSINCE1987 magazine cover represents the highest form of credibility in Hip-Hop journalism. The HIPHOPSINCE1987 magazine cover comes in two different color versions in digital and print format. The featured artist receives "10" physical copies for "FREE".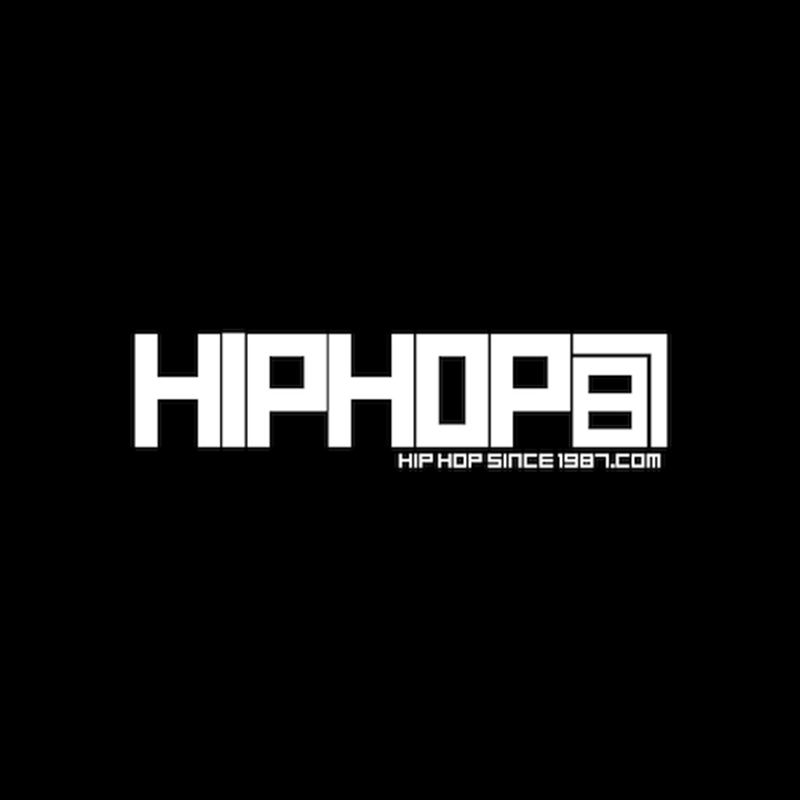 Featured artist receives a customized Press Release prepared by the human staff of HIPHOP SINCE 1987 Editorial team. The writer's room of HIPHOP SINCE 1987 creates a cinematic style press release on behalf of the artist. The press release provides a detailed overview of the artist's mindset, social media impact, music demand, and business enterprises. Most independent artists settle for a basic webpage write-up, which provides readers with a small insight into the artist's musical journey and grind. The majority of websites publishing indie content don't have consistent website traffic. HIPHOP SINCE 1987 website traffic ranks at the top of Google's search engine: Click here
HIPHOP SINCE 1987 is a GOOGLE News verified publication.
The Human Press Release includes the following interactive features
Embedded Apple Music Player
Embedded Instagram Feed for real-time social media engagement
Embedded video player powered by YouTube integration
Embedded interactive comment feed (website visitors can add images and URL links to their feedback)
C/O the Human Press Release featuring ''THE MANIFESTATION OF BLXST'' Click Here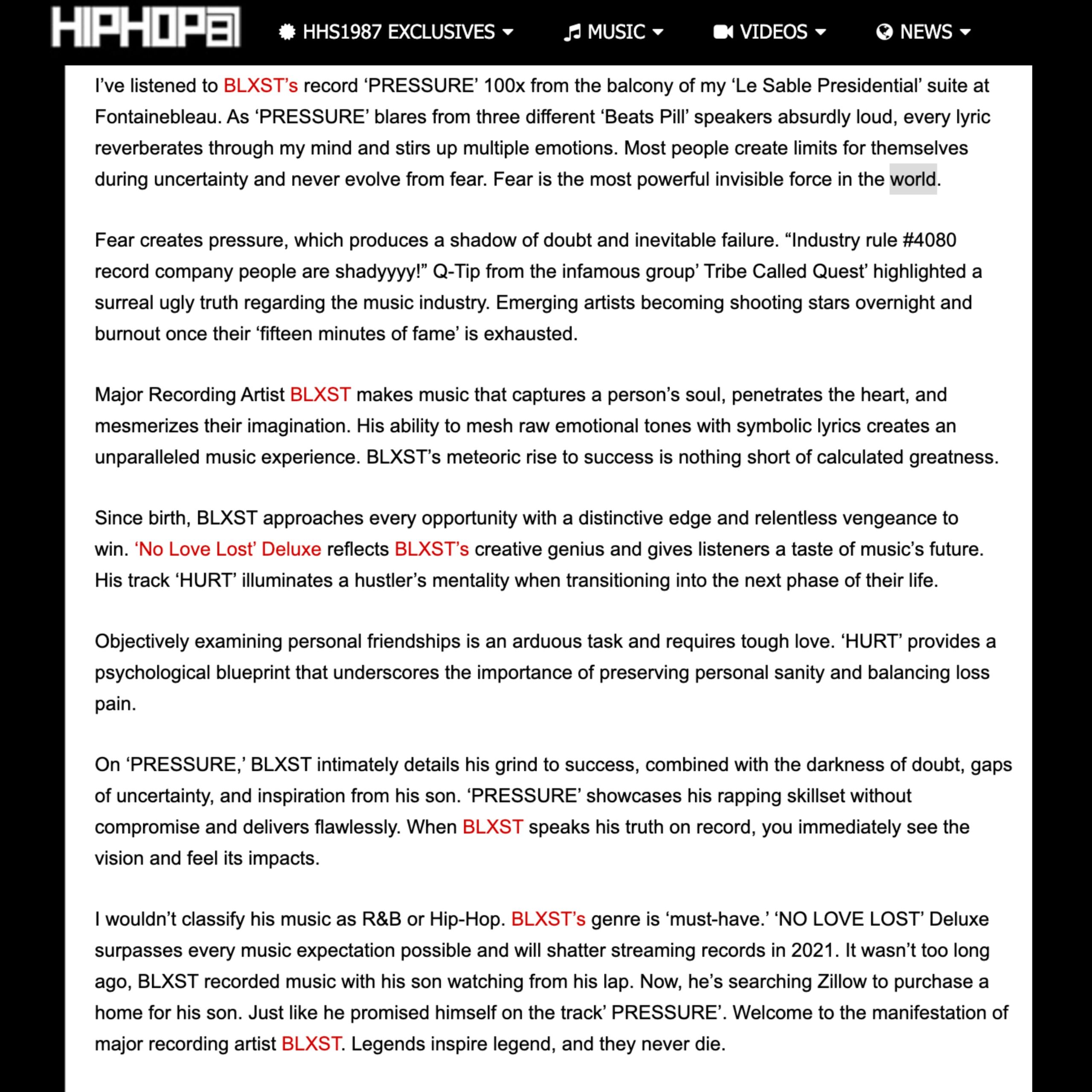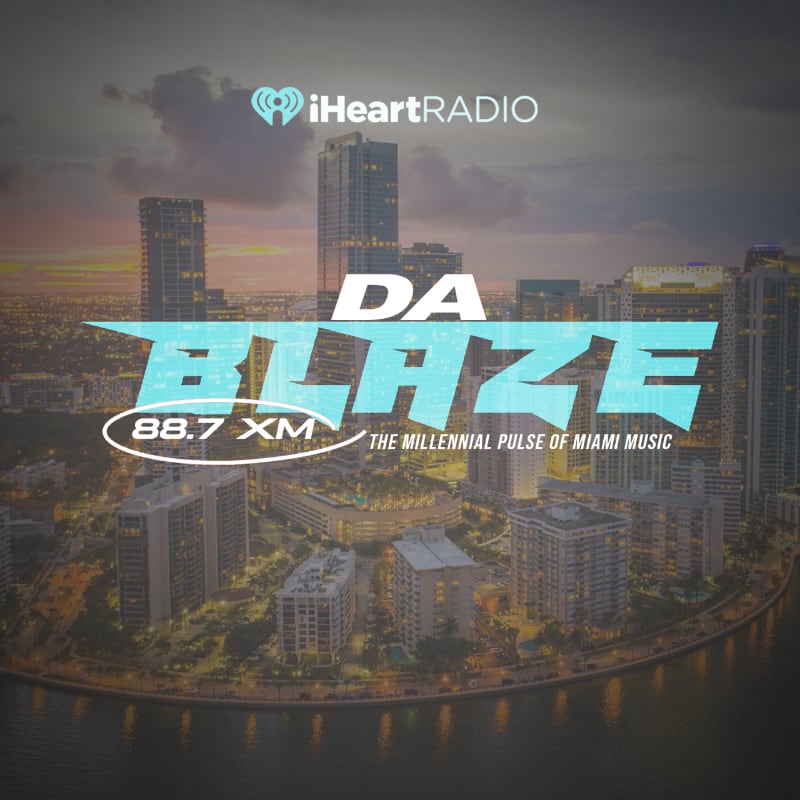 DA BLAZE 88.7 XM is the Millennial Pulse of Miami Music. DA BLAZE 88.7 XM is a fully licensed station with ASCAP, BMI, SESAC, and SoundExchange, in Canada via SOCAN and Re: Sound, and in the UK via PPL and PRS for Music.
DA BLAZE 88.7 XM is a registered Top 40 and Pop music radio station powered by iHeartRadio. DA BLAZE 88.7 XM is available on all iHeartRadio streaming platforms, including Comcast, Xfinity, Apple TV, Amazon Fire TV, ROKU, and all iHeartRadio websites and mobile apps.
The featured artist receives 60 days on airplay on DA BLAZE 88.7 XM Miami powered by iHeartRadio.
The featured artist track receives a customized sponsored 30-second iHeartRadio drop.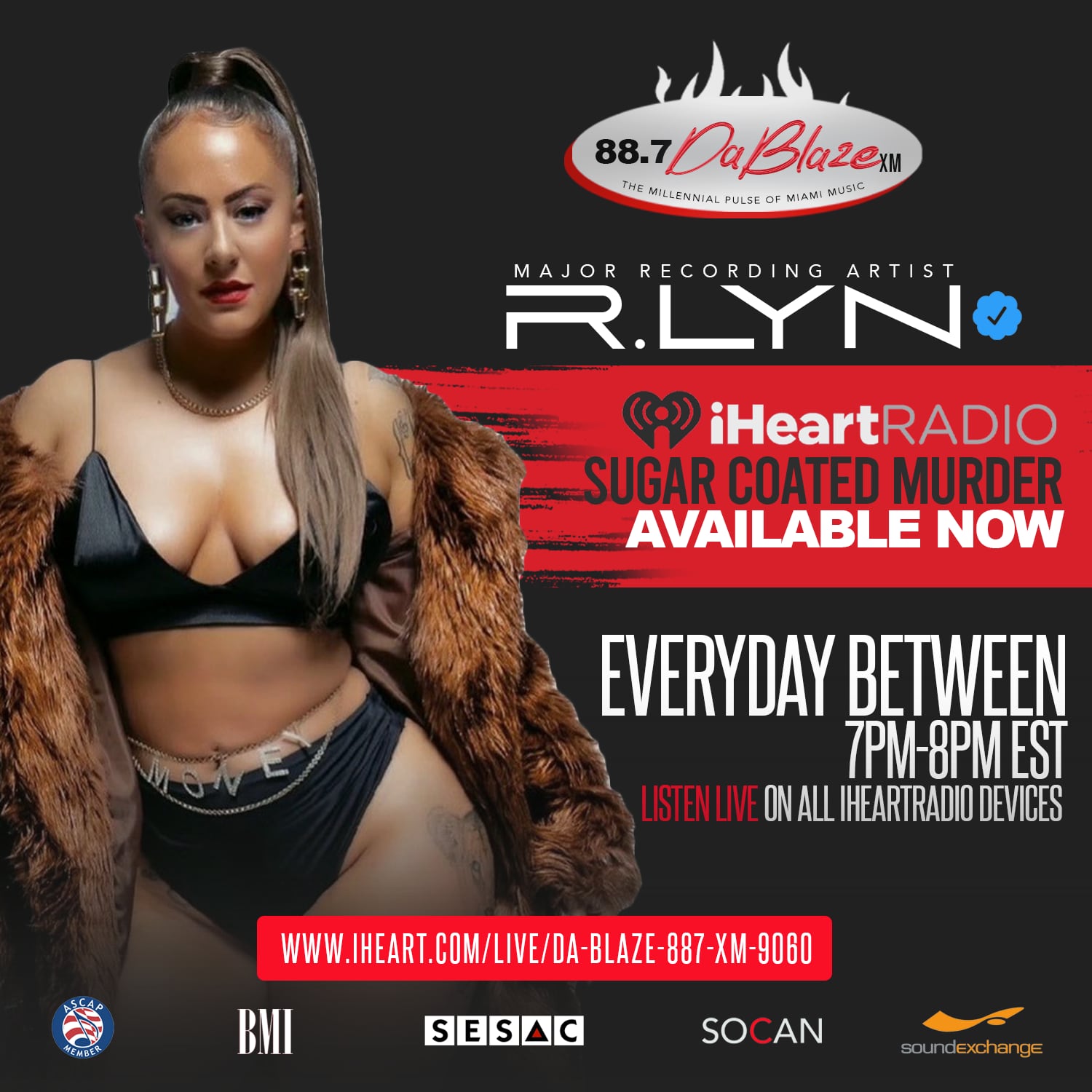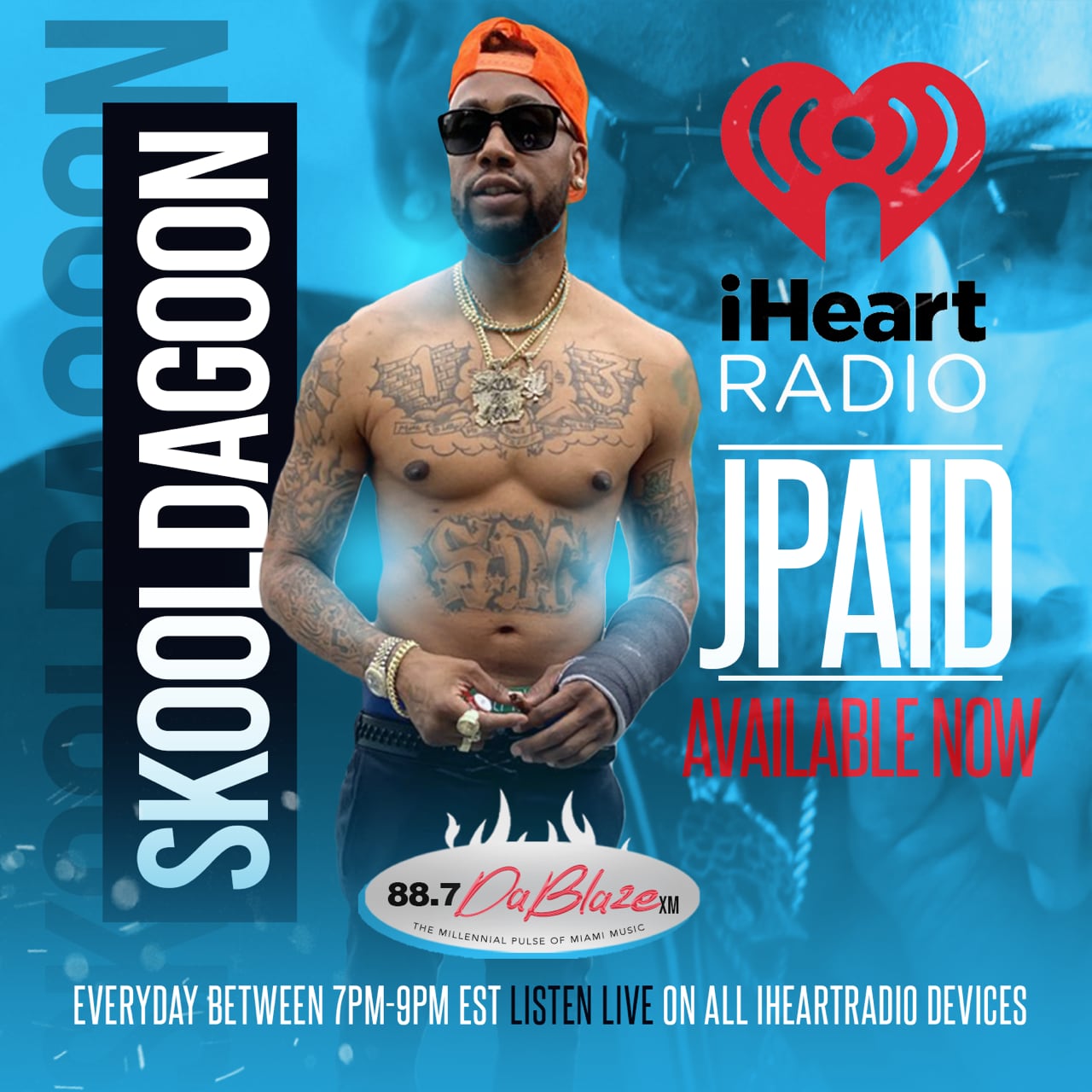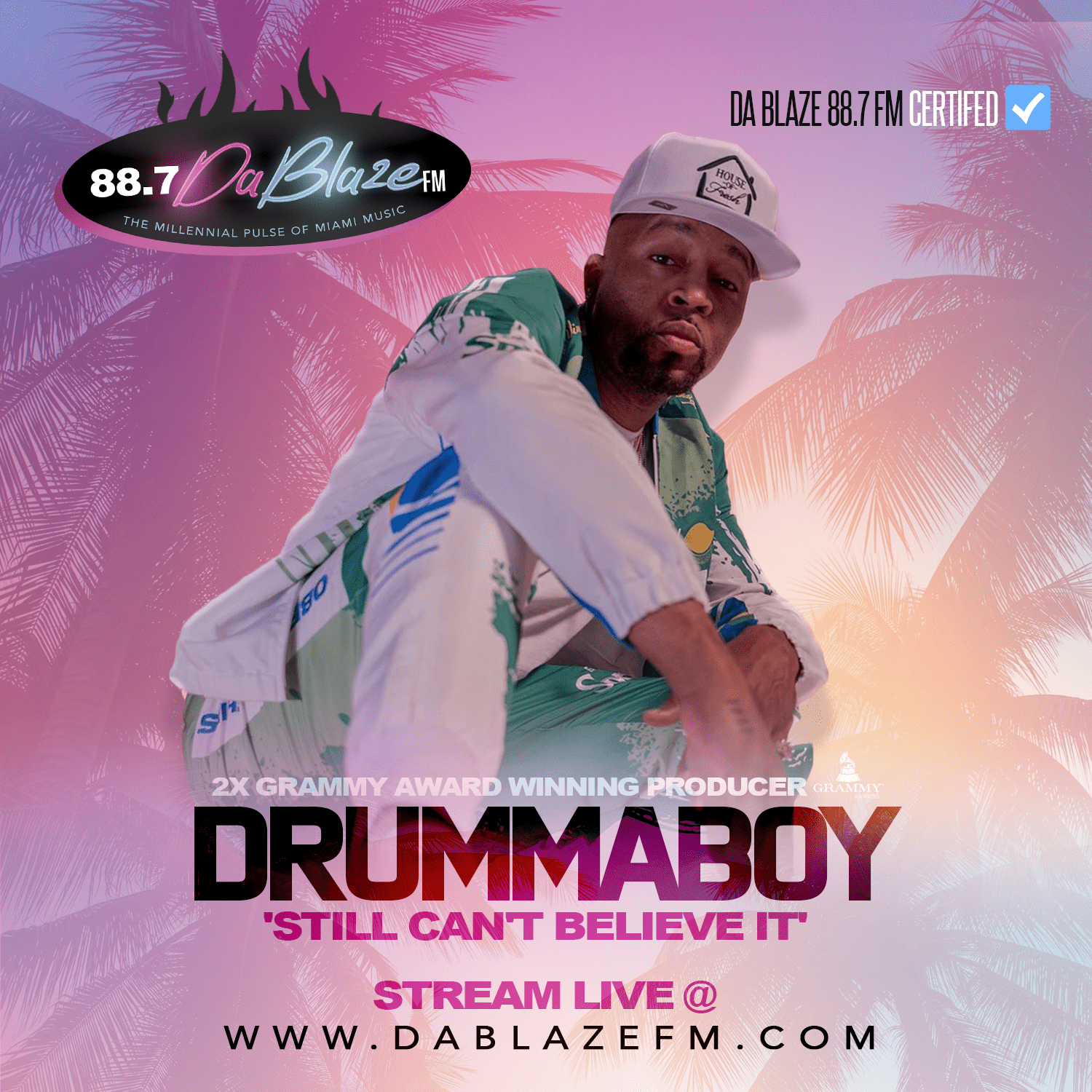 The featured artist receives a 30-minute phone interview with "DA BLAZE 88.7 FM". DA BLAZE 88.7 FM broadcasts live "in-car" throughout the surrounding counties in Miami. DA BLAZE 88.7 FM broadcasts from South Beach to Opa-Locka and beyond. Miami is one of the top and hottest radio markets in America.
The interview is conducted by world-famous DJ YOYO. DJ Yoyo has been successful in creating a long-lasting brand not only through his work as a DJ but also as an entrepreneur who knows what people all around the world want to see when they open their cell phones.
DJ YoYo has also rocked gigs at the biggest strip club in the world King of Diamonds. He has also appeared as Rick Ross' Hip-Hop Artist for credits. Currently, his love for the mainstream entertainment industry has led him to start his record label, PSMG Prolific Sound Music Group.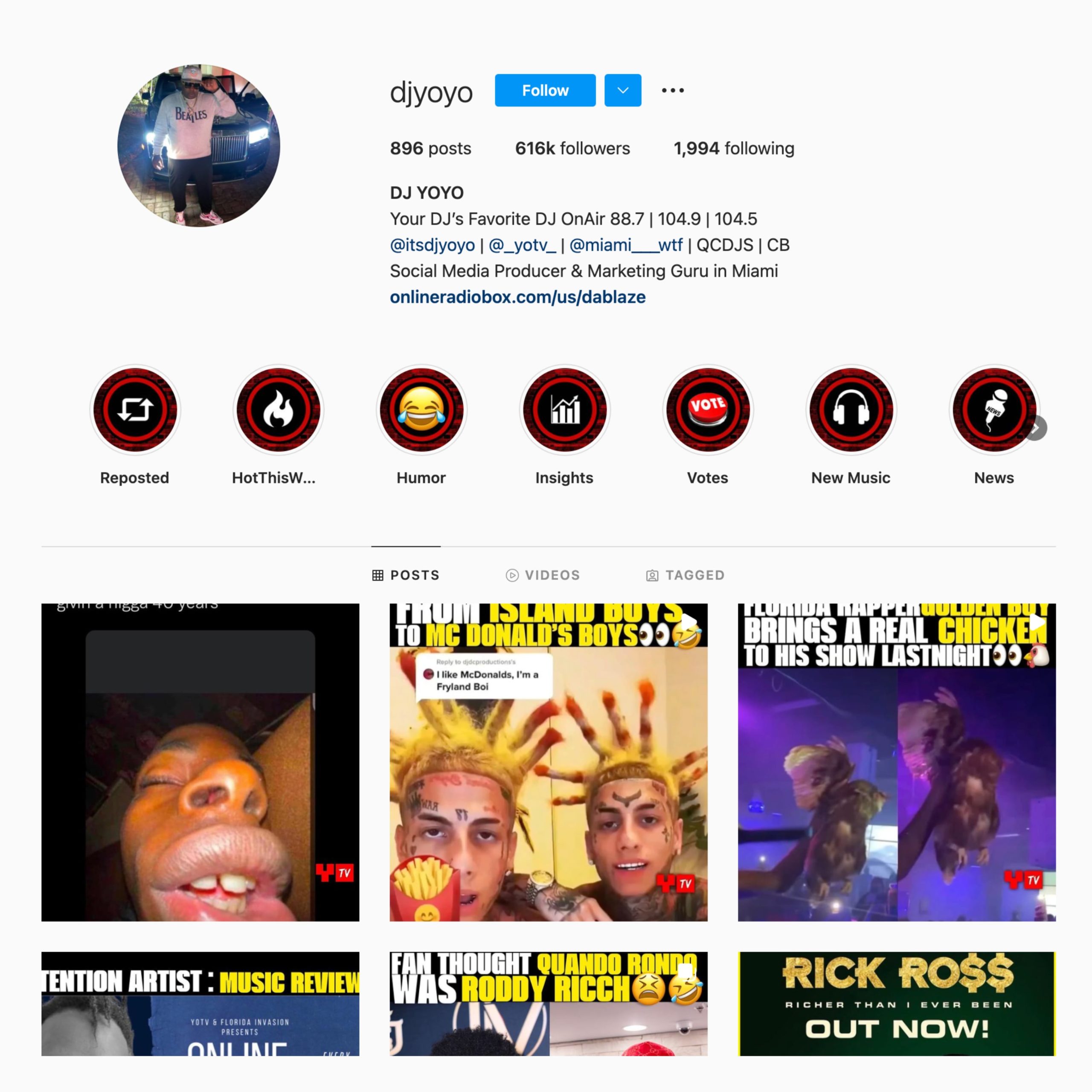 The featured artist music airs during the BIDDING WARS Mix show Monday-Friday between 7pm-8pm est. DA BLAZE 88.7 FM airs the music 2X per day for 60 days.