Description
DREAMHUSTLEWIN Campaign is sponsored by Global Recording Artist "Eddy Fish". Connect w/ Eddy Fish on IG @eddy_fish
DREAMHUSTLEWIN
30 Days of Airplay on "1" DRT tracked radio stations.  RAIRADIO stations are monitored by Digital Radio Tracker DRT.  DRT tracks & monitors 5000+ radio stations including FM, Satellite, College, BDS, & Digital.  The featured artist music airs during "prime" airplay sessions.  Each digital radio station has "12" 2-hour playlists.  Each playlist airs commercial and independent artists. The featured artist track airs 12X a day per station.
Stream POWER 102.1 TORONTO below
Your browser does not support iframes.

View the content of this inline frame with your browser
103.1 THE BEAT CHICAGO Stream here Click Here
POWER 106.1 MIAMI Stream here Click Here
30 Days of Social Media Advertising via Twitter. Our social media team promotes the featured artist track via Twitter from multiple accounts. C/O our branded Twitter accounts
@RADIOPUSHERSTV
@KINGJAMESWORTHY
@IAMJOPAUL
@MPGVIP
@DRUMMABOYFRESH 
@DRUMSQUADDJS
@FTRIFF
The featured artist receives Instagram post "liking" engagement on a maximum of "5" posts per week. Each post receives likes, views, impressions, and Instagram saves. All social media traffic is targeted via the Instagram explore and external accounts from highly active users.  The featured artist receives Instagram traffic on images, video's, & IGTV.  IGTV is the hottest new feature on Instagram.  IGTV enables users to post videos longer than 60 seconds.  All IG posts engagements are variable based upon likeability and quality of content. Users will comment naturally based on their satisfaction. Make sure your IG account is set up on "Business" mode and check your Instagram insights analytics every 24 hours. Impressions, Profile visits, accounts reach, likes, profile saves, video views & more increases during this 30-Day cycle.
The featured artist receives access to a minimum of 1000 real active customized Instagram users per 30 days.  The #WINNERSCIRCLE Directory is a social media rolodex of highly active and engaged Instagram users.  The #WINNERSCIRCLE Directory is curated by Millennials and enables artists to "CHOOSE" who they want to follow ORGANICALLY.  Artists can preview the Instagram feed of each user and engage in real time.  The #WINNERSCIRCLE Directory allows each artist to CONTROL who they want to FOLLOW.  Most companies use "follow/unfollow" software to boost growth from random accounts without understanding the exact audience of the artist. 
The #WINNERSCIRCLE Directory updates 4X per month with real active humans' users dedicated to music, entertainment, business, power players, & more. Every time you follow someone their Instagram activity pops up in your daily TIMELINE.  Imagine engaging with 500 real people on your timeline which "UNDERSTAND" your movement? Welcome to the #WINNERSCIRCLE Directory baby!!!!! Visit the #WINNERSCIRCLE Directory @ Here (Only members of the RADIOPUSHERS/MUSICHYPEBEAST Community have access. Please create a username & password).
The Featured artist receives 30 Days of Spotify engagement. All engagement is 100% eligible for royalty payouts and trackable via Spotify analytics. All Spotify streams are driven to the "Artist Profile/Catalog" for optimal streaming results.  Spotify tracks the "source" of every stream within an artist catalog. Streaming engagement generated via "Artist Profile/Catalog mean streams were made from the artist page on Spotify. This means listeners have visited your artist page and played the music from there. Understanding this crucial information is vital to building a real solid listening base. The featured artist receives a minimum of 20,000 Spotify streams within 30 days.

The featured artist receives a minimum of 500 Spotify followers within 30 Days.
The featured artist track is eligible for Spotify playlist placement on DREAMHUSTLEWIN.
#DREAMHUSTLEWIN Spotify Playlist currently has 11,000+ followers. The track must be approved by the music curation team. DREAMHUSTLEWIN Spotify Playlist @ Here
C/O the Colin Kapernick POWER500 Edition. Click below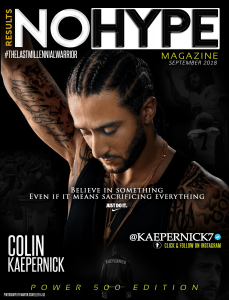 The featured artist receives a 20-minute pre-recorded customized radio interview with The Millennial General ( C/O IG profile @ Here )  on the #BETONYOUSELF Podcast. The #BETONYOURSELF podcast is a fresh organic approach built exclusively for millennials. Checkout the latest episode Here The pre-recorded phone is available in 100+ countries. Listeners can stream the interview from their mobile device, desktop computer, or Smart TV via "TUNEIN".  The #BETONYOURSELF Podcast streams globally on Spotify, ITunes, TUNEIN, Android Auto, Apple Carplay, Pocket Casts, & Google Play. C/O the Podcast Here
The interview is available on multiple streaming media outlets
ITunes: Click Here
Tunein: Click Here
Google Podcasts: Click Here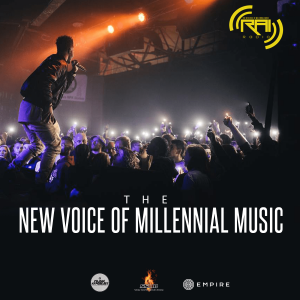 The featured artist receives a customized interactive landing page @ www.radiopushers.tv in the "ONTHEVERGE" section. The landing page includes the following multi-media features
Embedded Artist Spotify Player (Users stream popular tracks from the featured artist).
Embedded Artist Spotify "Follow" button (Users can follow the profile of the featured artist).
Embedded Artist Instagram Profile (Users can view & interact with the featured artist on IG).
The featured artist high-resolution banner is highlighted on the landing page.
The featured artist receives a customized digital radio station embedded on their page. The fanbase of the artist is enabled to stream their designated station 24/7 in real time.
The featured artist receives a customized "Request Your Artist" request button on their landing page.
Embedded Artist Soundcloud player (Users stream popular tracks from the featured artist).
C/O the Visual Music Smart Link Page of Global Recording Artist Group Rich Soul @ Here
The featured artist receives a customized digital interactive feature in RNH Magazine The digital feature includes "1" high resolution, shareable social media feature options, and YouTube video streaming. C/O the Magazine.  RNH Magazine is 100% digital and publishes every 60 days.
Digital & Viral distribution is included in this campaign. All music & viral videos distributed via MUSICHYPEBEAST/EMPIRE. Full Digital Distribution for "1" Mp3 & viral video. The Mp3 distribution includes on all major digital streaming & retail sites. The outlets include JPAY/GTL (UNITED STATES PRISON SYSTEM), Spotify, TIDAL, Apple Music, Rhapsody, Deezer, Amazon, iTunes, IHeart Radio Google Play, Pandora, & more. MUSICHYPEBEAST/EMPIRE provides a full list of all digital retailers broadcasting your track upon request.
Digital distribution for "1" Mp3 track fully published on all sites within two weeks from submission.


MUSICHYPEBEAST/EMPIRE provide tracking & revenue performance reports after 90 days. The video distribution includes VEVO and TIDAL.  Review the Digital Distribution Agreement
The featured artist viral IAMTV video airs every Saturday on RADIO PUSHERS TV during the IAMTV Series Mix between 6pm-8pm-est. The IAMTV series airs two-minute viral documentaries of emerging indie artists. The 2-minute video gives viewers a glimpse into your lifestyle, mindset, & musical vision. The IAMTV Series is ultra-dope! C/O the IAMTV Series @ Here
RADIOPUSHERS TV is the #1 Millennial Music & TV Network available for AMAZON FIRE TV & ROKU users. Watch RADIOPUSHERS TV online @ Watch Tv
RADIOPUSHERS TV is available in over 70,000,000 homes via Amazon Fire TV Stick & ROKU. Viewers stream RADIOPUSHERS TV via ROKU Player, Amazon Fire TV Stick, & online @ Watch Tv
STREAM da hottest viral content on da planet! Powered by Amazon Fire TV and ROKU
Loading…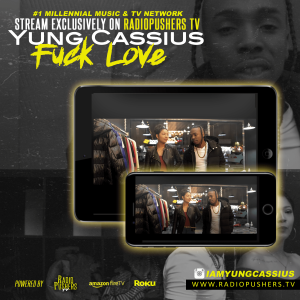 RAIRADIO is 100% Digital and not an FM, BDS, or media-base network.  Our network is tracked & monitored by Digital Radio Tracker.
All orders are final, and the above information is your full agreement of services.