Description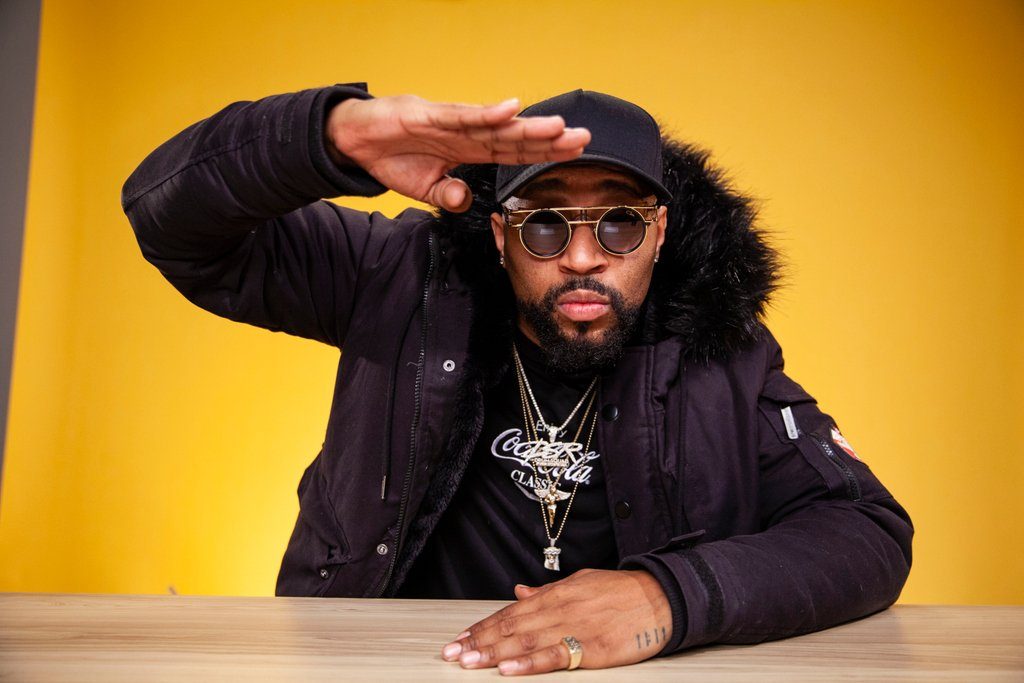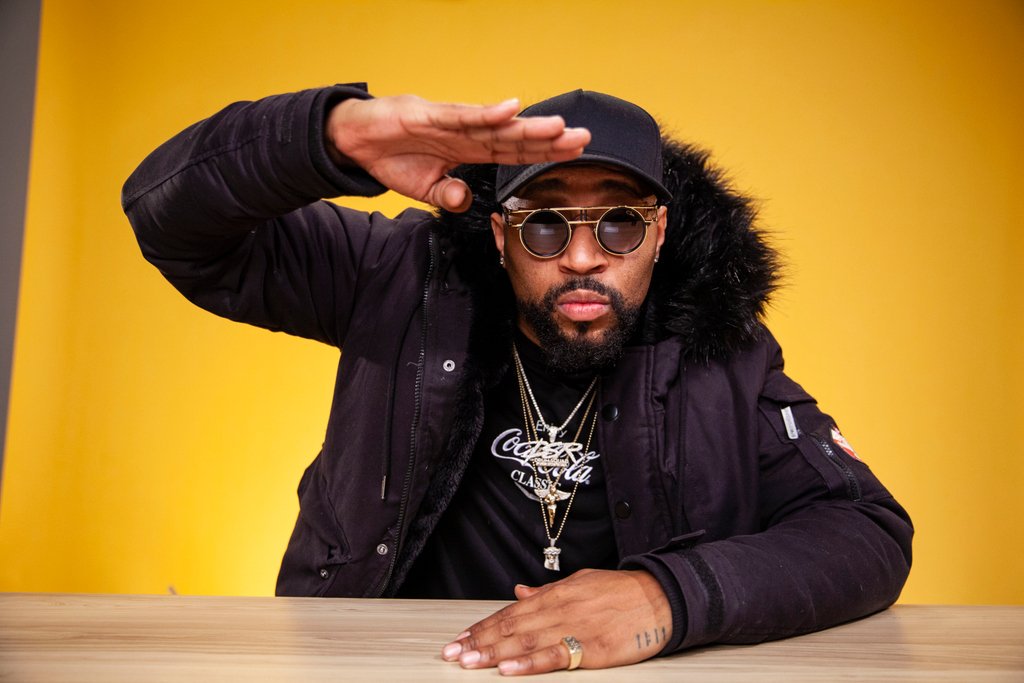 The BUILTFORTHIS Campaign runs for 90 Days.  RADIOPUSHERS automatically drafts your debit or credit card every month in the amount of $500.00.  In the event you desire to cancel before the 90 Days, you will need to email our team 30 Days in advance.  RADIOPUSHERS emails payment reminders "1" week in advance. You can cancel at anytime from your account dashboard.  Please review & E-Sign the card authorization agreement here 

CLICK THE BOOK BUTTON BELOW & SCHEDULE A CONFIRMATION CALL AFTER YOU PURCHASE

Download the RADIOPUSHERS APP for Android and iPhone
2XGrammy-Awarding Winning & Multi-Platinum Music Producer Drummaboy Fresh releases & curates the


Playlist #BUILTFORTHIS powered by MUSICHYPEBEAST.  The high energy playlist includes premium tracks from mainstream artists infused with raw millennial indie music.  The #BUILTFORTHIS Playlist updates every 30 days and is marketed via MUSICHYPEBEAST on all social media platforms. C/O #BUILTFORTHIS


Playlist Click Here
The designated track maximum time length cannot exceed 7 minutes.
The designated track must not contain any lyrics or references to any anything deemed racist, pro-hate, body shaming, or any distasteful depiction of humanity.
Connect with Drummaboy Fresh via Instagram: Click Here
Connect with Drummaboy Fresh via Twitter: Click Here
C/O the Wiki Page of Drumma Boy Fresh: Click Here
C/O Drummaboy Fresh "Official" Music Credits #HITSONLY: Click Here
The featured artist receives a "personalized" 30-second welcome viral video message exclusively from Drummaboy Fresh. The featured artist can share the "welcome" video on their social media platforms!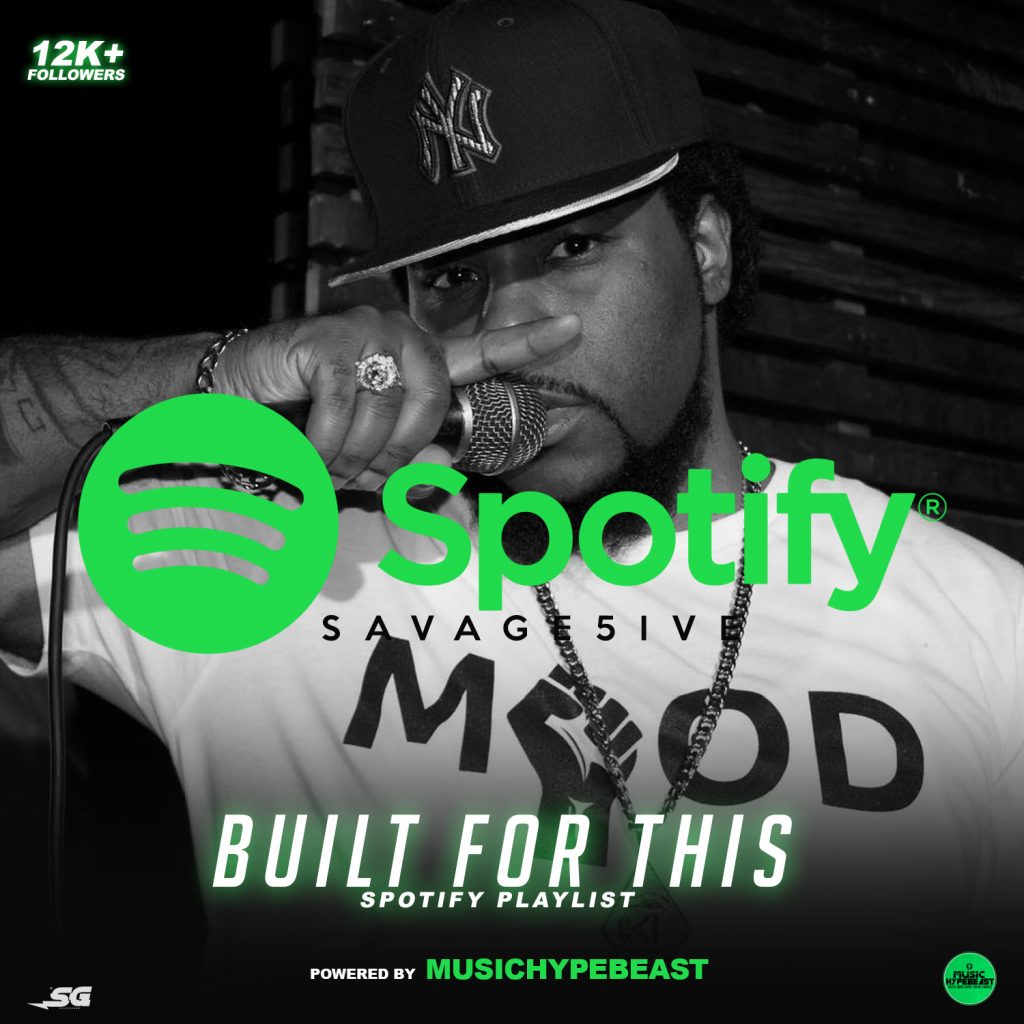 The featured artist receives a minimum of 100,000 geo-targeted


Playlist & Artist Profile Catalog streams. The featured artist can target listeners "specific" to their current genre of music.  For example, all listeners for the Championship DNA playlist are Hip-Hop focused.  These listeners "search"


for Hip-Hop music.  MUSICHYPEBEAST


playlists delivered a "premium targeted" listening experience.  Most indie artists music is placed on random


playlists with zero artist curation concentration.
Artist profile catalog streams identify listeners visited your profile on www.spotify.com and streamed your music from the artist profile. Artist Profile Catalog streams reflect listeners "direct" interest to the music.  Artist profile catalog highlights the "strength" & popularity of your music individually.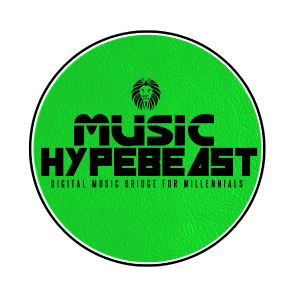 The designated artist is featured on 2 additional high traffic


Playlists within MUSICHYPEBEAST.
Stream all of the MUSICHYPEBEAST


Playlists Click here
RADIOPUSHERS (80,000+


Followers) C/O @ Click Here
The Millennial General (11,000+


Followers) C/O @  Click Here
48 LAWS OF POWER (10,000+


Followers) Stream @ Click Here
The featured artist receives a minimum of 3000


followers.
The featured artist receives a digital interactive artist profile placement with MUSICHYPEBEAST. The digital feature includes the following interactive features
Embedded Artist


Player (Users stream popular tracks from the featured artist).
• Embedded Artist


"Follow" button (Users can follow the profile of the featured artist).
• Embedded Artist Instagram Profile (Users can view & interact with the featured artist on IG).
• The featured artist high-resolution banner is highlighted on the landing page.
• The featured artist receives a customized digital radio station embedded on their page. The fanbase of the artist is enabled to stream their designated station 24/7 in real time.
• The featured artist receives a customized "Request Your Artist" request button on their landing page.
• Embedded Artist Soundcloud player (Users stream popular tracks from the featured artist).
The featured artist receives a 20 minute per-recorded radio interview. DJ Waffles highlights the artist brand, music, work ethic, business ventures, and future power-player moves.  DJ Waffles creates a 15-second promo video promoting the interview via Instagram stories.  DJ Waffles tags artists within the MUSICHYPEBEAST Instagram #WINNERSCIRCLE Chat Group for optimal branding exposure.  DJ Waffles comments on the tagged interview post of the featured artist.  The 20-minute interview re-airs during his "Padded Room" radio show powered by Dash Radio. DJ Waffles issues an Mp3 master copy of the interview file. The artist promotes the "Padded Room" logo and brand on their Instagram profile page.
Dash Radio Dash Radio is a digital radio broadcasting platform with 80 original stations. These stations are curated by DJs, radio personalities, musicians, and music tastemakers. The platform includes partner stations curated by Snoop Dogg, Kylie Jenner, Lil Wayne, Tech N9ne, Borgore, B-Real of Cypress Hill, and others. Dash Radio has no subscription fees and is commercial-free.  Dash Radio has over 10,000,000 worldwide listeners. Dash Radio is a registered Satellite Radio station.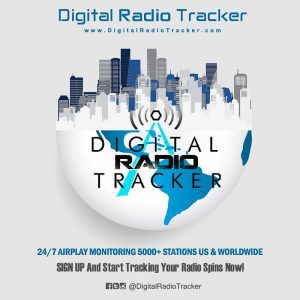 30 Days of Airplay on "8" DRT tracked radio stations. RAIRADIO stations are monitored by Digital Radio Tracker. DRT tracks & monitors 5000+ radio stations including FM, Satellite, College, BDS, & Digital. The featured artist music airs during "prime" airplay sessions. Each digital radio station has "12" 2-hour playlists.  The featured artist receives 1000 DRT tracked radio spins per month. *The artist tracks all radio spin data @ www.digitalradiotracker.com . MUSICHYPEBEAST averages 20 to 25 nationally charting artist every week. C/O the Top 150 Indie Charts @ Click Here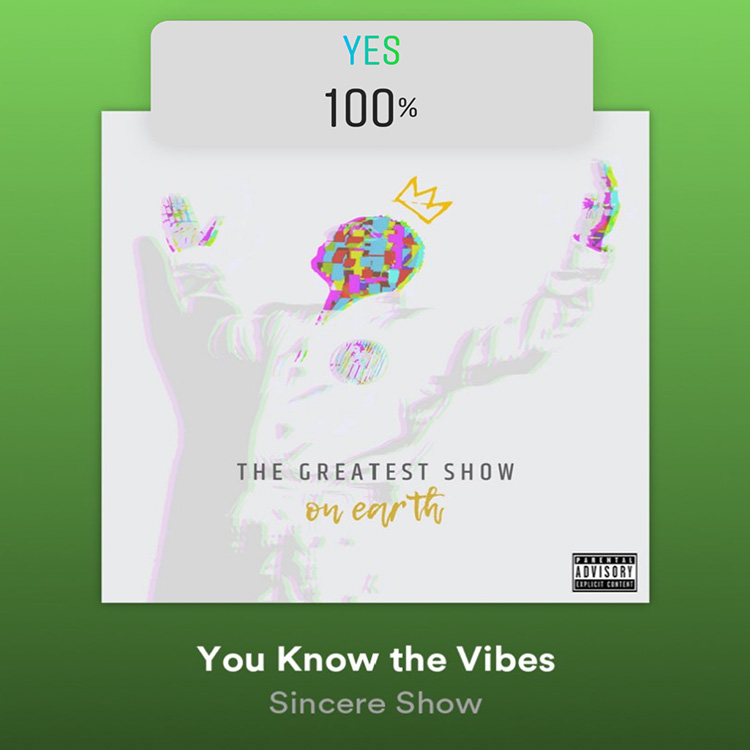 Featured artist receives a full music review from the "Curators Room" Staff of MUSICHYPEBEAST. MUSICHYPEBEAST creates an Instagram Voting Poll and distributes it out to a minimum of 100 active curators for review. The results of the music review are posted inside the MUSICHYPEBEAST IG stories and RADIOPUSHERS App. MUSICHYPEBEAST maintains 200+ real human music curators. Dope ISH baby!!!!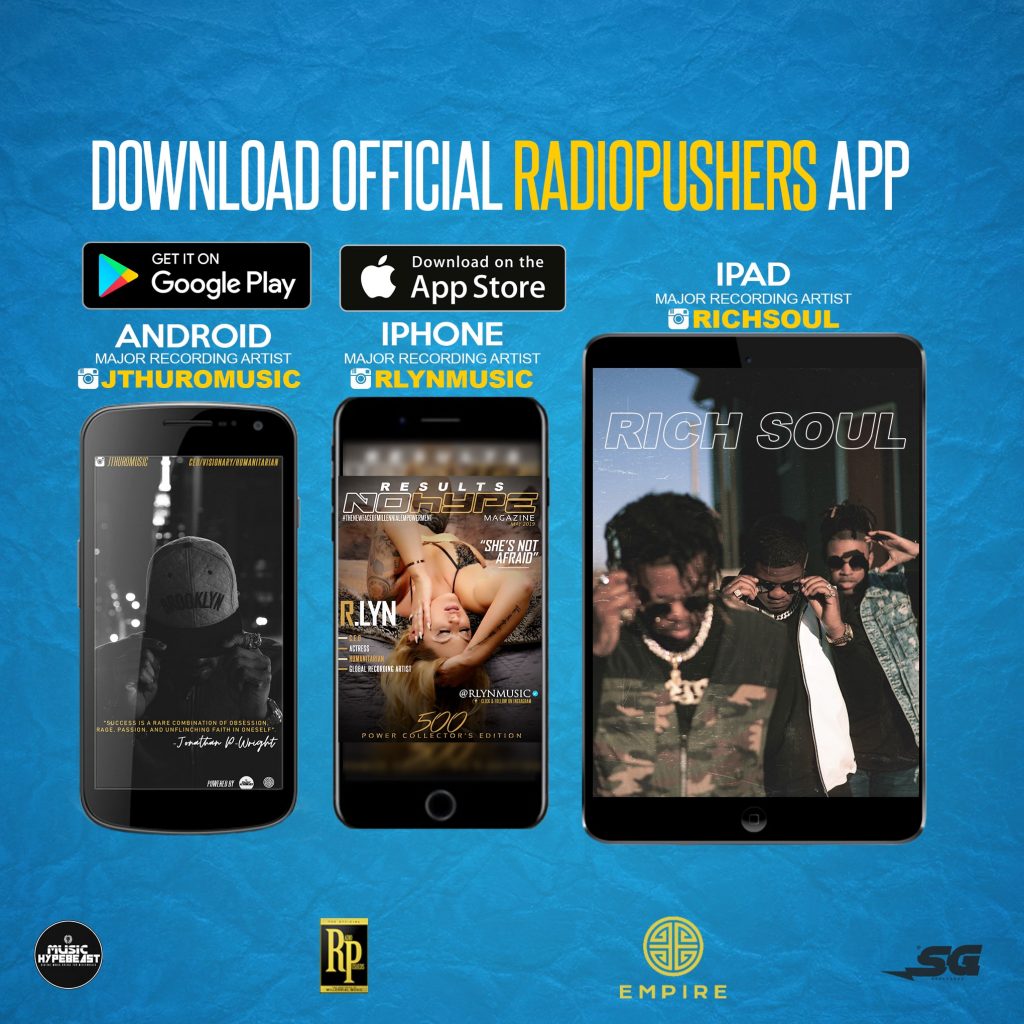 The featured artist receives a digital interactive feature inside the AMBITIONOVER Section of the RADIOPUSHERS App. RADIOPUSHERS App maintains over 5,000 overall downloads across Google Play & App Store.
The interactive app highlight includes the following features:
Customized artist bio
YouTube video integration
"1" High Resolution Image
Social Media URL Links for Instagram/Twitter
Download the RADIOPUSHERS APP for Android and iPhone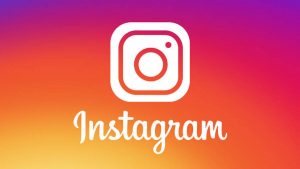 The featured artist receives Instagram post "liking" engagement on a maximum of "5" posts per week. Each post receives likes, views, impressions, and Instagram saves. All social media traffic is targeted via the Instagram explore and external accounts from highly active users. The featured artist receives Instagram traffic on images and video's. All IG posts engagements are variable based upon likeability and quality of content. Users will comment naturally based on their satisfaction. Make sure your IG account is set up on "Business" mode and check your Instagram insights analytics every 24 hours. Impressions, Profile visits, accounts reach, likes, profile saves, video views & more increases during this 30-Day cycle.
30 Days of real-time human interactive Instagram engagement and growth. NEWHYPEBEAST Media Group drives real human traffic and interaction to the featured profile. Engagement includes likes, comments, and follows. NEWHYPEBEAST MEDIA Group engages targeted users from high traffic IG accounts. All followers are "geo-targeted" to build a real fanbase. Geo-targeting means our Social Media Unit targets a "specific" audience. The average artist receives a minimum of 300 new targeted followers monthly. NEWHYPEBEAST MEDIA Group requires "temporary" remote access to the designated IG account which includes your username & password credentials. Our team never alters or modifies the account. Our login access is limited, and IG will send the account owner a 6-digit verification code to grant access for the targeting software. FYI, we never post pictures on behalf of the artist or change emails or passwords. Our team places your account on "unfollow" mode during the 4th week of the campaign cycle. It's essential to engage all new followers, to maintain long-term growth. The featured artist "business category" must be set to "Public Figure" to activate the premium targeting software.
Please email the URL link to the designated post for Instagram engagement to
newhypebeastops@gmail.com
Attention: Instagram Traffic
After you post please email asap. The targeted traffic begins within 12 to 24 hours to prevent any issues with Instagram. Make sure you use the hashtags #radiopushers #musichypebeast #betonyourself #winnerscircle for 100% optimization.
The featured artist receives an interactive digital feature inside RNH Magazine (RESULTSANDNOHYPE). RNH Magazine is a 100% Digital Interactive Magazine which enables readers to watch live tv, stream music videos via YouTube, live chat with artists on Instagram, and more. C/O RNH Magazine featuring Multi-Platinum artist TANK @ Here